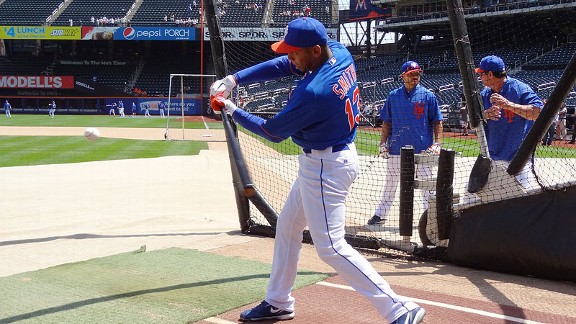 Adam Rubin
First-round pick Dominic Smith takes batting practice Sunday at Citi Field.NEW YORK -- Three days after being selected with the 11th overall pick in the draft, 17-year-old first baseman Dominic Smith took batting practice with Mets players before Sunday's series finale against the Miami Marlins.
Terry Collins advised Smith to "have fun and work hard." LaTroy Hawkins and Robert Carson chatted with Smith at length in the clubhouse.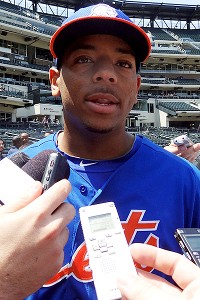 Adam Rubin
Dominic Smith
"It's kind of surreal right now," Smith said. "I'm just taking it all in. I'm just happy to be here. I'm glad to call New York my new home."
Scott Rice, who observed Smith's batting-practice session, said he immediately spotted the prospect's "quick hands."
Smith, who hails from L.A., has remained in New York since getting drafted Thursday. He attended Saturday's extra-inning game.
"I stayed all 20 innings," Smith said. "It was pretty fun. It sucks that we didn't get the win, but I've enjoyed myself here. I've been to Times Square. I've been sightseeing, traveling, visiting everything. I've just had a great time. I've had a blast so far."
This wasn't Smith's first time getting swings in a big league stadium. Just nine days ago, Smith won a Southern Section Division 3 California prep championship at Dodger Stadium with Gardena Serra High. Smith pitched 6 1/3 innings in that game, striking out nine, in his team's 8-1 win.
"It's better here," Smith said with a smile, comparing Citi Field and Dodger Stadium. "Way better."
After taking batting practice, which included at least one revised-dimension homer into the Mo's Zone area in right field, Smith said: "It's a big park. I've just got to keep working every day to get better and better. I'm just very excited to be here."