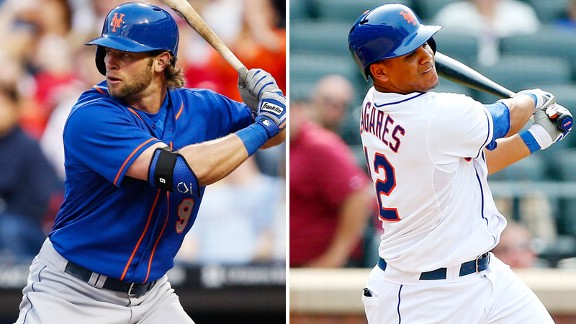 Getty Images
Kirk Nieuwenhuis and Juan Lagares are now the primary center fielders.NEW YORK -- Kirk Nieuwenhuis landed at 7:30 a.m. after arriving on a redeye flight from Seattle. Because of the overnight travel, Terry Collins decided to start righty-hitting Juan Lagares in center field against Marlins right-hander Tom Koehler.
Overall, Collins said, the duo mostly will share center field, although it may not be a strict lefty-righty platoon. Collins said the duo even may find themselves in the starting lineup together on occasion, especially as the Mets begin to be shift into more of a get-the-prospects-ready-for-2014 mode as opposed to playing veterans such as Rick Ankiel.
Ankiel was designated for assignment Saturday to clear the roster spot for Nieuwenhuis.
"I don't think we need to do a straight platoon," Collins said. "There might even be a time when they're both out there at the same time. That's certainly the reason why Juan is still here. We're getting to the stages where we've got to start taking a look down the road. So there certainly could be that time when they're both out there. But I think you want to pick your spots -- not to put Juan over his head or Nieuwy over his head against somebody you're just not going to be able to hit."
Nieuwenhuis hit .232 with 10 homers, 18 RBIs and a .339 on-base percentage while striking out 40 times in 142 at-bats with Triple-A Las Vegas.
"He went down and did exactly what we were hoping for, and that was got consistent at-bats and started to get his swing back," Collins said. "Obviously the power numbers speak for themselves down there. I spoke to Nieuwy this morning. He said that's what he really needed, to pretty much play every day to get his swing."
Nieuwenhuis said he revised both his approach as well as his stance, which is now more open (front foot more toward first base).
"I found myself taking fastballs early in the count too much," Nieuwenhuis said. "It's a pitch that I can drive a lot of the time. I was just taking too many pitches that I could drive. That just puts you in a bad spot. In order to get walks, you've got to scare somebody out of the [strike] zone. And I wasn't doing that."