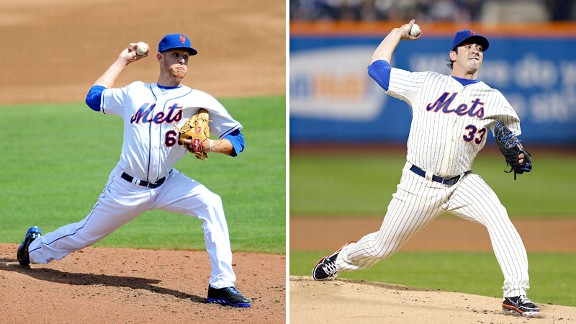 USA TODAY Sports/Getty Images
Mets fans could get a Zack Wheeler-Matt Harvey double dip on June 18 at Atlanta.NEW YORK -- The decision to pitch Matt Harvey on Thursday instead of Friday this week at Citi Field sets up an interesting scenario.
The Mets and Atlanta Braves play a day-night doubleheader the following Tuesday at Turner Field because of a rainout during the May series there.
Collins said Harvey will get the nighttime game on June 18.
Who gets the 1:10 p.m. game?
Well, the Mets need a call-up to fill the role. And let's just say the Mets have Zack Wheeler pretty well lined up for that start. Assuming he pitches on regular rest Wednesday for Triple-A Las Vegas, Wheeler would have one extra day of rest for that matinee against the Braves.
The Mets don't absolutely have to use Wheeler, even though that would appear the plan.
The new collective bargaining agreement allows for a 26th player to be added to the roster for a doubleheader scheduled 48 hours in advance. And, Collins said, his understanding is the player could be anyone, with the player not having to go through waivers or be optioned to return to the minors after the day's duty.