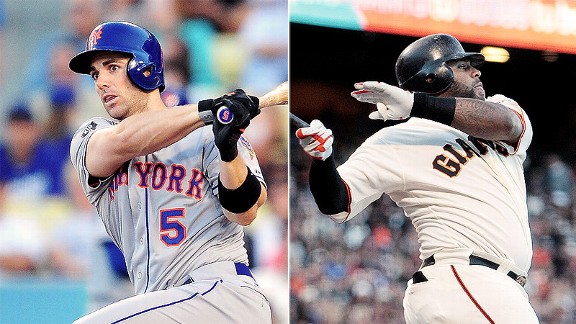 US Presswire
A banged up Pablo Sandoval has opened an even larger lead in All-Star voting over David Wright.NEW YORK -- Pablo Sandoval's lead expanded to more than 200,000 over David Wright in the latest tally of NL All-Star voting at third base released Sunday, even though Sandoval appears headed to the disabled list with a strained left foot.
Although he has no chance to catch the leaders at second base, Daniel Murphy did move into fifth place, bumping Dan Uggla from the leading voter-getters. John Buck maintained a distant third at catcher.
The game will be held July 16 at Citi Field.
First base
Joey Votto, Reds, 1,569,477
Paul Goldschmidt, Diamondbacks, 928,657
Brandon Belt, Giants, 778,883
Allen Craig, Cardinals, 767,645
Freddie Freeman, Braves, 704,578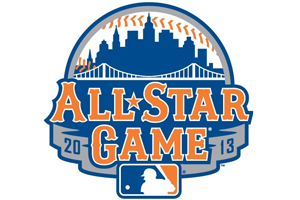 Courtesy of New York Mets
Second base
Brandon Phillips, Reds, 1,541,720
Marco Scutaro, Giants, 1,285,076
Matt Carpenter, Cardinals, 913,778
Chase Utley, Phillies, 774,314
Murphy, Mets, 566,874
Third base
Sandoval, Giants, 1,674,157
Wright, Mets, 1,473,381
David Freese, Cardinals, 720,939
Chris Johnson, Braves, 635,138
Ryan Zimmerman, Nationals, 532,493
Shortstop
Troy Tulowitzki, Rockies, 1,691,262
Brandon Crawford, Giants, 1,015,633
Jean Segura, Brewers, 835,329
Pete Kozma, Cardinals, 595,416
Andrelton Simmons, Braves, 592,286
Catcher
Buster Posey, Giants, 1,961,861
Yadier Molina, Cardinals, 1,684,700
Buck, Mets, 692,170
Brian McCann, Braves, 467,522
Jonathan Lucroy, Brewers, 423,115
Outfield
Justin Upton, Braves, 1,666,026
Bryce Harper, Nationals, 1,616,784
Carlos Beltran, Cardinals, 1,550,844
Ryan Braun, Brewers, 1,283,103
Shin-Soo Choo, Reds, 1,043,839
Hunter Pence, Giants, 984,734
Carlos Gonzalez, Rockies, 955,568
Andrew McCutchen, Pirates, 952,618
Angel Pagan, Giants, 871,143
Matt Holliday, Cardinals, 868,829
Gregor Blanco, Giants, 722,441
Carlos Gomez, Brewers, 704,106
B.J. Upton, Braves, 582,401
Jon Jay, Cardinals, 577,251
Jay Bruce, Reds, 556,894