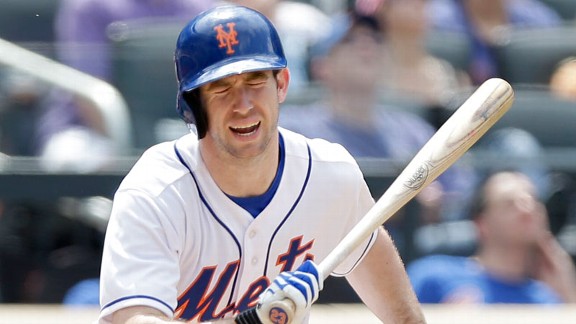 Kathy Willens/Associated Press
Mike Baxter reacts to popping out to shortstop in the sixth inning on Sunday, before receiving demotion news.FIRST PITCH: The Mets did not exactly fire the players, but they came pretty darn close.
After 30 innings of ugly baseball against the Miami Marlins over two days that included nearly 900 pitches thrown and 10 hours on the dot of game time, the Mets again pause to regroup with an off-day today. When they do return to Citi Field on Tuesday to face the St. Louis Cardinals, they will be minus Ike Davis as well as Mike Baxter and Robert Carson.
This season, the Marlins are 8-3 against the Mets and 10-41 against the rest of baseball. Enough said.
Meanwhile, the last time two teams played an extra-inning game the day after playing 20 innings? That came back in 1989, when the Los Angeles Dodgers and Houston Astros played 22 innings, then 13 innings on consecutive days, according to ESPN Stats & Information.
Monday's news reports:
• Davis, Baxter and Carson were demoted to Triple-A Las Vegas after Sunday's loss. The Mets plan to promote Josh Satin, Collin Cowgill and Josh Edgin for Tuesday's series opener against St. Louis.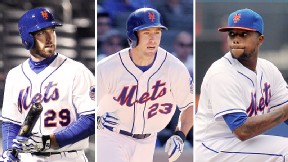 Getty Images/USA TODAY Sports
The Mets sent Ike Davis, Mike Baxter and Robert Carson packing for Las Vegas on Sunday.
Davis' demotion came on the anniversary of the start of his 2012 turnaround -- after he staved off getting dispatched to the minors last season. Last June 9, Davis went 1-for-2 with two walks at Yankee Stadium, beginning a nine-game hitting streak that began to lift his average from .158 to eventually over .200 in early July.
A scout told ESPNNewYork.com on Sunday: "Davis is off-balance on every single swing. I've never seen a hitter with so many moving parts."
Baxter was in a 2-for-31 rut and failed to get down a bunt in the ninth inning Sunday. Carson served up his eighth homer in 13 relief appearances this season.
With the weekend additions of Kirk Nieuwenhuis and David Aardsma from Las Vegas, the Mets have turned over one-fifth of the roster in a two-day span.
Sandy Alderson said the issue is player-related and Terry Collins and his staff are not in jeopardy. Collins had called a postgame meeting Sunday "about what it takes to play here."
Said Collins: "There's a lot of veterans in that room that certainly know. … This is when you reach down inside. You find out who belongs here and who doesn't."
Satin, who exclusively has played first base this season, was hitting .305 with nine homers and 32 RBIs and had a .420 on-base percentage with the 51s. Cowgill had hit .268 with five homers and 12 RBIs in 32 Triple-A games since a demotion. Edgin had a combined 6.75 ERA in 16 appearances between Double-A Binghamton and Las Vegas.
Writes columnist Kevin Kernan in the Post:
The bottom line is the Mets have grown weary of losing with the same cast of characters. Collins told his team that after the game.
"We've been talking all along about the future, the future, the future,'' a frustrated Collins said. "We have to start getting everybody to understand what it takes to play here. Are you going to make changes just to make changes or are you going to make changes to make guys better? If you are going to get beat, get beat with guys that hopefully can get better.''
Writes columnist Bill Madden in the Daily News:
There were 21,747 gluttons for punishment at Citi Field Sunday for the conclusion of another Mets-Marlins series, which now qualify for the worst baseball on the planet.
Not satisfied with having tortured their fans for 20 innings of record-tying ineptitude the day before, the Mets lost in similar fashion -- just not so long in doing it, and when it was over, when they had gone another 2-for-8 with runners in scoring position, on top of the 0-for-19 the day before that equaled the worst performance of clutch hitting by a team in the last 50 years, and gotten one infield hit after David Wright's two-run double in the third inning, it was as if Alderson and Collins couldn't wait another minute to start shipping the bums out of here.
They could've waited until the off-day Monday, but clearly Alderson and Collins had seen enough and wanted to make a statement.
Read more in the Post, Daily News, Times, Journal, Star-Ledger, Record, Newsday and MLB.com.
• Sunday's postgame mass demotions were precipitated by the Mets getting swept for a second straight weekend by the Marlins with an 8-4, 10-inning loss. Daniel Murphy had a critical extra-inning error and Bobby Parnell suffered the loss. One positive: Jonathon Niese, who logged 6 2/3 innings and departed with a lead, said his pitching shoulder felt its best all season. Read game recaps in the Post, Daily News, Star-Ledger, Record and MLB.com.
• Matt Harvey said his lower back, which forced him from Saturday's game, is fine. He will start Thursday against the Cardinals, after Jeremy Hefner and Dillon Gee open the series. Harvey's Thursday assignment potentially sets up Zack Wheeler and Harvey handling a day-night doubleheader in Atlanta on June 18, although HoJo isn't sure Wheeler is ready. Read more in the Post, Daily News and Newsday.
• Pablo Sandoval, although injured, leads David Wright by more than 200,000 votes to become the starting NL third baseman in the July 16 All-Star Game at Citi Field.
• First-round pick Dominic Smith took batting practice Sunday morning at Citi Field. Tim Marchman in the Journal looks at the history of first-round picks who play first base.
• Travis Taijeron continued his torrid production since a promotion to Binghamton with a tiebreaking three-run homer in the ninth as the B-Mets beat Altoona, 5-2. Right-hander Carlos Torres tossed his second straight complete game as Las Vegas beat Tacoma, 7-1. Read the full minor league recap here.
• Locally produced Tom Koehler, starting for the Marlins, received a no-decision Sunday with his family on hand, writes Steven Braid in Newsday.
• From the bloggers … Faith and Fear in Flushing thinks sending Davis down is a start, but cannot be the finish.
BIRTHDAYS: Outfielder Ken Singleton, who began his major league career with the Mets before getting traded to the Montreal Expos for Rusty Staub, turns 66.
TWEET OF THE DAY:
Really happy for LJ Mazzilli for his signing with the Mets. The young Maz will do it!!

— Bobby Valentine (@BobbyValentine) June 8, 2013
YOU'RE UP: How long do you think Ike Davis will spend in the minors?