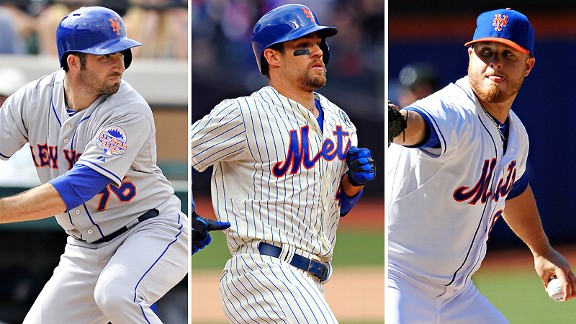 USA TODAY Sports
The reinforcements arrive at Citi Field today (l to r): Josh Satin, Collin Cowgill and Josh Edgin.FIRST PITCH: Searching for any positive after a second straight weekend sweep by the Miami Marlins?
Paul DePodesta insists the farm system is on the right track.
"Savannah is tied for the best record in the South Atlantic League. Binghamton has the best record in the Eastern League," DePodesta said. "Overall, I believe we have the second-best record in all of baseball, though this can change daily among the top three organizations, as we're all close together. All four of our full-season teams are over .500, which only two or three other organizations can claim.
"On an in individual basis, Rainy Lara was leading the SAL in ERA before being promoted to PSL. Travis Taijeron was third in the FSL in OPS before being promoted to Binghamton, where in two games he's gone 5-for-9 with two homers and six RBIs. Allan Dykstra and Cesar Puello are currently first and second in OPS in the Eastern League. Rafael Montero is third in the EL in ERA and has just 10 walks against 72 strikeouts."
So remember that when the Mets face the NL Central-leading St. Louis Cardinals the next three days at Citi Field, beginning with Jeremy Hefner (1-5, 4.36 ERA) against phenom Michael Wacha (0-0, 5.40) at 7:10 tonight.
Josh Satin, Collin Cowgill and Josh Edgin all rejoin the Mets for the series.
Read the series preview here.
Tuesday's news reports:
• Sandy Alderson, while at first stating it was Terry Collins' decision, left the strong impression Daniel Murphy would slide to first base while Ike Davis "figures out his swing" in Triple-A. That would allow Jordany Valdespin to get at least a brief look as a regular second baseman. Satin is the alternative. Shifting Lucas Duda from left field to first base would be a last resort. Read more in the Record.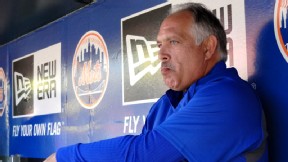 Adam Rubin
Wally Backman draws the assignment of fixing Ike Davis.
• Davis will work with Wally Backman and hitting coach George Greer in Vegas beginning today.
"It may be two weeks. It could be a month. I don't know," Backman told Anthony Rieber in Newsday about the duration of Davis' demotion. "He's coming here for us to fix him, and we're going try to fix him. I think there's a lot more mental than there is physical. When I sit him down and talk to him, we're going to try to attack that. Try to clear his head from everything. He was getting, from what I heard, lots of different people giving him a lot of different information. So basically, mentally, he's totally [messed] up. …
"We've watched hours and hours of tape on him back when he first went to the big leagues from the minor leagues. He's made so many changes. I think personally it's been too many changes. Try to get him back to what he did to get to the big leagues. We're going to work with him on a daily basis. It's going to be one-on-one work with me, him and George. Nobody else is out there. We're going to let him really try to figure it out."
Said Greer, who coached Davis in the minors, to Rieber: "We're just going to go from ground zero. He'll tell me how he feels, and I'll tell him what I see, and because we have worked together in the past, we'll come hopefully to a happy medium where he can start feeling good about himself."
Columnist Bob Klapisch in the Record suggests fixing Davis could make Backman even more desirable as the Mets' next manager. Writes Klapisch:
What could Backman know that Terry Collins and his coaching staff don't? That's where this experiment becomes interesting, because Backman has prided himself on managing the game -- as a former player -- from the inside. That's how he separates himself from Collins.
Say what you want about Backman's past transgressions, including arrests for DUI and a domestic dispute. They are permanent scars on his résumé. But if you're going to judge Backman for what happened in the early 2000s, then you also must consider his track record since 2010, steadily working his way up the Mets' system without controversy. This season has been the ultimate test for Backman, who's been chaperoning young men whose free time is spent in Sin City. It's a recipe for disaster for any team, and yet Backman's players have stayed out of trouble on The Strip.
Read more on fixing Davis in the Times and Post.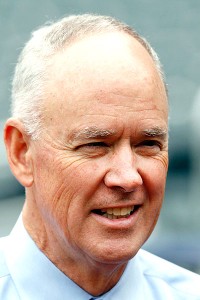 William Perlman/US Presswire
Sandy Alderson says the payroll should be between $90 million and $100 million again next year.
• On 2014 payroll, Joel Sherman in the Post writes after speaking with Alderson:
It was Alderson's best guesstimate that the Mets are committed to roughly $55 million next year with raises on long-term deals for David Wright and Jonathon Niese, and increases for arbitration eligible players likely to be retained including Daniel Murphy and Bobby Parnell and -- depending how you calculate it -- the buyout on Santana and deferrals to Bay.
He believes the team will have a 2014 payroll between $90 million and $100 million. So that is $35 million-$45 million to spend. Which sounds like improvement, but keep in mind that would rank the Mets 15th this year -- exactly the midpoint -- in payroll. And should a team in New York with dedicated fans, a still relatively new stadium and its own network be 15th in payroll?
"I think it is unlikely to go from $55 million to $150 million," Alderson said. "Do I think we can get there? We would have to outperform our payroll, so we can increase attendance and increase payroll consistently over time. Overall, I agree with you [that a Met payroll should be near the highest], but I think we will get on a progression toward something. We will basically spend [on 2014 payroll] almost as much as we currently have committed next year, so that is a doubling.
"It [the lowered payroll] is not because [of ownership financial problems]. It is because they have been burned by the big, long contacts, so we are not prepared to go from zero to 60 [mph] in 3.5 seconds, which I can't argue with. But if we have enough young pitching, then $100 million will be enough to be competitive because we can use the money on position players, which is our problem right now."
Howard Megdal at Capital New York is skeptical the Mets will spend this offseason, even with a ton of money coming off the books. That is, the Mets won't spend unless debt holder J.P. Morgan Chase signs off, according to Megdal.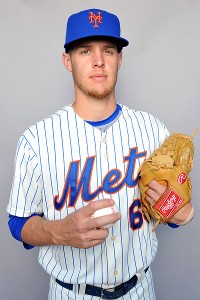 Steve Mitchell/USA TODAY Sports
Zack Wheeler makes his major league debut next Tuesday in Atlanta.
• Zack Wheeler will make his major league debut at Atlanta on June 18, likely in the matinee of a day-night doubleheader, with Matt Harvey handling the evening duty. Wheeler's final Triple-A start has been moved back a day to Thursday at Las Vegas to place him on the proper rest for his major league debut against the Braves.
"My past two starts, I haven't been happy with my command, especially my last start," Wheeler told Dan Martin in the Post. "In the fifth inning I started to leave a lot of balls up. It happens. You just need to find the command and feel more comfortable with your mechanics."
Wheeler grew up 30 miles from Turner Field, but does not think there will be added pressure facing the Braves. "Everybody thinks it's going to put a lot more pressure on me," Wheeler told Andy Martino in the Daily News. "It's actually probably going to ease me a little bit. I'll get to sleep in my own bed and just be around my family and stuff, so it's going to be nice."
Read more in Newsday and the Star-Ledger.
• Alderson is now in player-evaluation mode, writes Kristie Ackert in the Daily News.
• Writes columnist John Harper in the Daily News about Alderson's analysis of his players:
Most noteworthy, Alderson said he doesn't consider either Ruben Tejada or Lucas Duda to be "core'' players around which to build. On the other hand he does think of Ike Davis that way -- of course, that's assuming someone can eliminate all the herky-jerky hand movement in a swing that has now landed the first baseman in Triple-A Las Vegas.
So let's see: that leaves Wright at third base, maybe Daniel Murphy at second, though Alderson wasn't asked specifically about him as a core player. And for that matter, the GM indicated he'd like to see Murphy take over temporarily for Davis at first base so the Mets can evaluate whether Jordany Valdespin has a future at second base.
Read more on Alderson in Newsday.
• Catching prospect Travis d'Arnaud has shed the protective boot on his left foot, but will not be permitted to run for a couple of weeks. Read more in the Post.
• Puello has been named Eastern League Player of the Week. After posting consecutive complete games during which he allowed a combined one run and five hits, Las Vegas right-hander Carlos Torres has been named Pacific Coast League Pitcher of the Week.
• Andrew Brown homered twice and Wilmer Flores also homered but Las Vegas lost to Tacoma, 10-7. T.J. Rivera had two hits and two RBIs in St. Lucie's 9-4 win against Clearwater. Read the full minor league recap here.
• From the bloggers … John Delcos at Mets Report asks if the Mets waited too long to demote Davis. … The Eddie Kranepool Society writes that Alderson finally makes some moves, but wonders if those were the right ones. ... Mets Police suggests the Mets need to get more out of Mr. Met.
BIRTHDAYS: Jose Reyes turns 30.
TWEET OF THE DAY:
At the graduation of my students. the sacrifice was worth it. pic.twitter.com/5v4kj3TXzU

— Carlos Beltran (@carlosbeltran15) June 10, 2013
YOU'RE UP: What is the best way for the Mets to fill first base during Ike Davis' demotion?