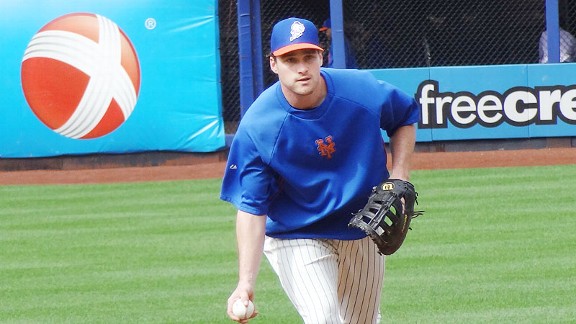 Adam Rubin
Daniel Murphy works at first base during batting practice Tuesday at Citi Field.NEW YORK -- Daniel Murphy primarily will play first base with Ike Davis in Triple-A to allow Jordany Valdespin to get a chance to prove himself at least for the next week with an everyday role at second base, Valdespin's most comfortable position.
"I've played first before," Murphy said. "I still think at this point I've probably almost got as many games at first base as I do at second."
Terry Collins said seeing how Valdespin performs at second base is not a slap in the face to Murphy in terms of suggesting he is not in the plans for the future at the position.
"I don't think that's what we're saying," Collins said. "We just need to see Jordany -- how he does."
Said Murphy: "I've got a big-league position. There's 30 times eight of them. And I feel fortunate to have one. ... I'm happy to have a job right now."
Murphy had not done any work at first base since the offseason, and even had given away his glove to Adam Walker, a fellow Jacksonville University product now playing in Minnesota's minor league system. So Justin Turner loaned Murphy a first baseman's glove while joking: "They haven't put the gold label on it yet," alluding to the Gold Glove designation.
Collins said Murphy actually may "fluctuate" between first and second base, so that Josh Satin can get at least sporadic action at first base "while he's here."
"We might bounce him back and forth a little bit," Collins said about Murphy. "I feel comfortable due to the fact it's the same side of the infield as second. And I know if one guy can be bounced around, it's him."
Lucas Duda was not a consideration to play first base in Davis' absence, Collins said. Collins said the Mets did not want to signal to Davis that his position was being contested by Duda since Davis' absence should only be short term anyway.
"What trumped everything is we don't think Ike is going to be gone very long," Collins said. "So we did not want to move Lucas to first base and send a terrible message that job is taken."
Murphy did not believe the position change would affect him at the plate.
"Fortunately, with the amount of butt-kickings I've taken in the big leagues, I've been able to try to learn how to separate the two," Murphy said. "That was one thing Damion Easley said to me very early in my career -- you have to learn how to separate your offense from your defense, and your defense from your offense. It's not just a one-way street. I've gotten better at that. I know it's something I still need to work on, because I can be somewhat immature in trying to separate the two. But it's definitely gotten a little bit better with the experience I've been able to get."
As for Valdespin getting an audition to be evaluated as an everyday player, Collins said: "We've asked Jordany to play center, play left, play right. The position he's most comfortable at is second base. Here's an opportunity -- especially right now this week with right-handed pitching pretty much through the weekend -- of giving him a chance to go out and play the position he's comfortable playing, that he got through the minor leagues playing, and see how he handles it."
Said Valdespin: "I think it's my time, because they want to give me the chance to show I can do my job and help the team."