NEW YORK -- Terry Collins, who recently had indicated Matt Harvey would get the night game in Atlanta next Tuesday, now is undecided, he indicated.
In fact, Collins now seemed more inclined to use Zack Wheeler in the nightcap of the split doubleheader at Turner Field.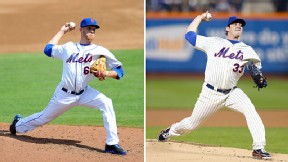 USA TODAY Sports/Getty Images
Matt Harvey may get the day game, with Zack Wheeler handling the nightcap, in Atlanta next Tuesday.
Collins emphatically said pitching Wheeler in prime time would not be a business decision to maximize the number of people back in New York watching Wheeler's major league debut on television.
Instead, Collins noted, veterans typically handle the first game of doubleheaders. And Collins wants to make sure his ace -- Harvey -- has the most optimal pitching conditions. That means daytime, when the sun will make it more difficult for Atlanta Braves batters to pick up the baseball.
Harvey and Wheeler both have starts Thursday before they get to Atlanta.
Harvey is due to face the St. Louis Cardinals in a matinee series finale at Citi Field. Wheeler pitches that night for Triple-A Las Vegas against Tacoma.
After leaving his last start with a lower-back issue, Harvey threw a bullpen session today at Citi Field and had no troubles, Collins said.