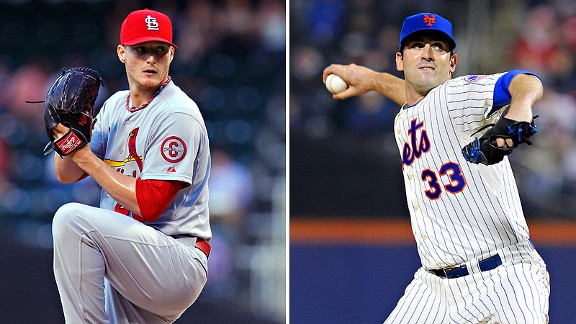 USA TODAY Sports
Shelby Miller faced the Mets on Wednesday. Now, weather-permitting, it's Matt Harvey's turn to face St. Louis.ESPN Stats & Information's Mark Simon kicks off Thursday's discussion by delivering the First Pitch …
FIRST PITCH: Last week, ESPN.com held its third annual "Franchise Player Draft," in which writers and analysts selected the player with whom they would start a team with for the next 10 years.
The first pitcher taken was Clayton Kershaw, fifth overall by ESPN The Magazine writer Molly Knight. Matt Harvey was the next, to senior writer Tim Kurkjian with the No. 8 pick.
"Risky move given that he has only made 22 starts," Kurkjian wrote explaining his pick, "but he just turned 24, and in 142 1/3 innings, he already has over 100 more strikeouts than walks. He's a maniacal competitor, and will win more than one Cy Young before he is done."
The next two pitchers taken were American Leaguers: (Yu Darvish at No. 13 and Justin Verlander at No. 16). The next National League pitcher was selected by Curt Schilling at the No. 23 spot (one pick after this writer took David Wright). Schilling went with Wednesday's Cardinals starter, Shelby Miller.
Matt Harvey vs Shelby Miller
Career
"Regardless of your position in the standings, you need 'that guy.' That guy you can count on every fifth day to give your team a far better than even shot at winning," Schilling said. "Matt Harvey would be the guy in a perfect world, but I am not so sure Miller is far behind. He won't turn 23 until October. He's younger than the other options I considered (Matt Moore, Chris Sale and Felix Hernandez) with better command of ace stuff than the lefties."
The gap between the two was 15 picks, and the difference between the two is notable -- Harvey is a four-pitch pitcher, Miller seems to be fastball-curveball -- but the overall gap between them is very small.
It was trendy to look at this a month ago, as a number of writers (including Joe Posnanski and Dayn Perry) did. Jim Bowden touched on this at about that time for Insider, giving Harvey the edge by a hair.
We thought it was cool to run through about a dozen pertinent numbers for each in the chart on the right. The two have been virtually identical in their brief, ultra-impressive stints and could be dueling not just for who will start this year's All-Star Game, but for hardware (and maybe someday) pennants down the road.
Miller got his turn to show what he could do against the Mets once earlier this season with 5 2/3 scoreless innings, and then again last night in a start that featured some good (10 strikeouts, no walks) and some bad (four runs, two homers). Harvey gets his crack at the Cardinals (and another pretty good pitcher in Adam Wainwright) today.
Thursday's news reports:
• Sandy Alderson affirmed publicly on Sunday that Terry Collins and his staff were not the issue, implying no jobs were in jeopardy and the Mets' issues were player-performance related. David Lennon in Newsday reports that more emphatically. Lennon also asserts Wally Backman is definitely not the manager in waiting. Writes Lennon:
The Mets have assured Terry Collins that his job is not in danger and his future with the team will be discussed when his contract expires at the end of this season, two sources told Newsday. Not only is Collins safe, there have been no conversations about Wally Backman as a potential replacement, either for this year or beyond. In fact, Backman's bold guarantees this week about fixing Ike Davis have rubbed some in the organization the wrong way after so much time and effort trying to help Davis at the major league level.
When asked about the possibility of Backman eventually taking over for Collins, one person familiar with the situation replied, "There's zero chance of that happening. Zero."
• Dillon Gee continued to signal Zack Wheeler's promotion will not affect his rotation standing. Gee limited the St. Louis Cardinals to one run and six hits in 6 2/3 innings as the Mets won, 5-1, Wednesday night at Citi Field. Gee acknowledged afterward that he had been battling elbow tendinitis and cramping and was concerned he would not have been able to make the start without rainout-induced extra rest.
Meanwhile, the Mets do not need to immediately decide which pitcher to bounce from the rotation, because they have a doubleheader in Atlanta next Tuesday and need an extra starter. Collins suggested the Mets even will go a turn through the rotation afterward with six starters.
Gee has a 1.29 ERA and has averaged seven innings per start over his past three outings. Lucas Duda, Wright and Marlon Byrd homered Tuesday. The rookie phenom Miller surrendered a career-high four runs.
Read game recaps in the Post, Daily News, Newsday, Times, Star-Ledger, Record and MLB.com.
• Inclement weather is expected today, which may very well again rain out Harvey Day. If so, that also would disrupt Harvey being able to be the other half of a day-night doubleheader with Wheeler on Tuesday in Atlanta. Wheeler appears more likely to make his major league debut in the nightcap at Turner Field either way. The Mets already have had an MLB-high six rainouts. Read more in the Post and Newsday.
• Las Vegas pitching coach Randy St. Claire, who previously held that role in the NL East with Washington and Miami, likens Wheeler to Josh Johnson.
"He kind of has the same power fastball and slider," St. Claire told Dan Martin in the Post. "Josh didn't throw a curveball, though, until last year. Zack has the curveball. His changeup is a work in progress. …
"His ceiling is being a No. 1 starter," St. Claire added about Wheeler. "But he's not a No. 1 starter right now. As he progresses, it'll be up to him whether he takes that No. 1 spot. No one can predict that. That's for him to answer."
• Tyler Kepner in the Times looks at the disparity in success between the Mets and Cardinals organizations. Writes Kepner:
The Cardinals reached the N.L. Championship Series in 1996, also the first season for their former manager Tony La Russa, and have returned seven times since. The more they have won, [GM John] Mozeliak said, the more empowered they have been to adhere to their principles.
"The key is remaining disciplined enough to that process where you don't start deviating because it just doesn't feel right," Mozeliak said, adding later, "Once you start doing an exception, you're going to start making multiple exceptions. One irrational decision can lead to multiple irrational decisions. So don't do it."
What, exactly, do the Mets believe in? For years after that 2000 pennant, they mostly believed in overspending for veterans. A few, like Beltran, helped out for a while. Most have been major disappointments.
• The Mets are nearing the announcement of an agreement with first-round pick Dominic Smith. Smith, 17, is expected to begin his pro career playing first base in the Gulf Coast League in Port St. Lucie, Fla.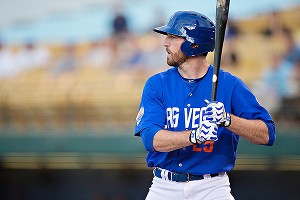 Julie Jacobson/Associated Press
Ike Davis had two hits last night for Las Vegas.
• Davis went 2-for-5 with a double and a strikeout in his second game with Triple-A Las Vegas. Andrew Keh, in Vegas, writes in the Times:
On Wednesday, Davis for a second straight day took extra batting practice, more than five hours before the Las Vegas 51s' game against the Tacoma Rainiers at Cashman Field. It was the same foursome as Tuesday afternoon -- Davis, outfielder Mike Baxter, 51s Manager Wally Backman and the hitting coach George Greer -- and it was the same scene, too, the four maintaining an animated conversation through the session, more and more baseballs dotting the outfield grass.
Opinions have seemed mixed, even within the organization, on the extent to which Davis needs to revamp his swing.
Columnist Joel Sherman in the Post says it's too early to write off Davis. One NL personnel chief compares Davis to Carlos Pena.
"Pena was a solid contributor to Tampa Bay during an impressive run for the Rays in the AL East, and that's what I think Ike can be -- a contributing piece to a winning team," the personnel chief told Sherman. "Winning and contributing pieces aren't falling out of trees. The Mets have had major problems adding any long-term winning pieces in any of the three years under the Alderson administration, so they can't give up on guys like Ike because even if he is Carlos Pena, that is OK and still valuable and can help you win.
"The problem with Ike is that he can't be the guy, but he can be a winning piece if used properly like Carlos Pena. Davis is Pena: He is going to strike out and hit some balls out, but if you expect him to change or adjust at this point in his career, it is not likely to happen. The Mets cannot simply flush him away because he is not a superstar, but they also need to realize that he can only be a contributing piece and find a way to surround him with better talent. And I am not sure if Sandy Alderson & Co. can do that."
Read more on Davis in the Journal.
• Wright speaks with columnist Kevin Kernan in the Post about losing and trailing Pablo Sandoval in NL All-Star balloting at third base.
• Dave Caldwell in the Journal profiles Double-A lefty reliever Jack Leathersich, who has struck out 194 batters in 114 innings since turning pro.
• Reliever Scott Atchison's rehab assignment has shifted to Double-A Binghamton, where he tossed a scoreless inning with two strikeouts at Trenton on Tuesday night. Atchison had experienced numbness in his fingers related to inflammation in his pitching elbow.
Read Wednesday's full minor league recap here.
• Dwight Gooden joined 540 AM WLIE for a half-hour. Listen here.
BIRTHDAYS: No one to play for the Mets was born on June 13, but Ashley and Mary-Kate Olsen turn 27. Chris Evans and Steve-O also celebrate birthdays today.
TWEET OF THE DAY:
APPLE UP!!!!!!!!!!!!!!!!!!! The #Mets third blast of the night as Marlon Byrd goes downtown!! 5-1 Mets!!!

— New York Mets (@Mets) June 13, 2013
YOU'RE UP: Are you upset with the report that Wally Backman is not a consideration to one day succeed Terry Collins?