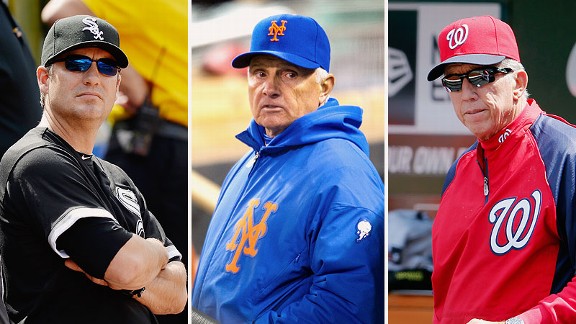 Getty Images
Robin Ventura, Terry Collins and Davey Johnson will serve as All-Star coaches.NEW YORK -- Terry Collins will serve as an NL All-Star coach for a second straight season, as the Mets host the July 16 game.
The managers selected as coaches for Bruce Bochy's NL squad and Jim Leyland's AL squad all have Mets ties.
Washington Nationals manager Davey Johnson, who skippered the Mets to the 1986 championship, joins Collins on the NL side. On the AL side: former Mets players Robin Ventura (Chicago White Sox) and John Gibbons (Toronto Blue Jays).
"My whole life has been in this game," Collins said. "I realize it's in New York and that's probably why they asked me to do it. It's an honor. It's a blast. I had a great time last year. [2012 NL manager] Tony [La Russa] and I are very, very good friends. So he asked me a lot of things before the game. We spent all morning before the game getting ready. It now means something. That All-Star Game is just not an exhibition game anymore. It means something. So it's a lot of fun.
"And to get in there during batting practice and mingle with the greatest of the greats, how could you not like that? And the fact that it's in New York, it's great. It's special. This is the place where you want to play. Still, it's just an honor to be a part of it all."