NEW YORK -- Terry Collins indicated that Zack Wheeler likely would be capped at 85 pitches in his final Triple-A start, which comes at 10:05 p.m. ET on Thursday in Las Vegas against Tacoma, the top affiliate of the Seattle Mariners.
"That way we know he's thrown enough, but not overdone it," Collins said.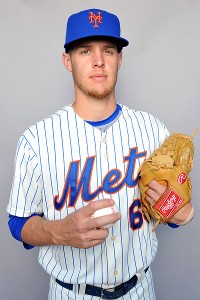 Steve Mitchell/USA TODAY Sports
Zack Wheeler makes his final Triple-A start tonight.
Wheeler will be pitching with an extra day of rest tonight. The Mets preferred that to Wheeler having pitched yesterday and then going into Tuesday's major league debut in Atlanta with the extra day. Hard-throwing pitchers can have too much extra strength with additional rest and lose some control.
"We didn't think it would be a very good situation to have him have an extra day going into next Tuesday because he's already going to be amped up enough with the situation," Collins said. "To give him an extra day, he'd really be jacked up."
As for the Wheeler hype, Collins believes there is more than a year ago leading into when Matt Harvey debuted in the majors.
"There's so much hype with this guy. It's even more than when Matt was going to pitch last year," Collins said. "He's going to pitch in Atlanta. It's an away game for us. It may be a home game for him, since he's from 50 miles away.
"As I said yesterday to a couple of guys: You try to set up as comfortable a routine as you can. This is an exception to the rule. This kid is going to have to learn how to deal with this.
"He's pitching today. He's got six or seven of New York's media out there now to watch him pitch today. That's certainly an uncommon experience in Triple-A. He's going to get used to it. He might as well get used to it. Be it in Atlanta or anyplace else, he's a special case. Even though we kind of like the fact it's on the road a little bit, it's still going to be a major event."