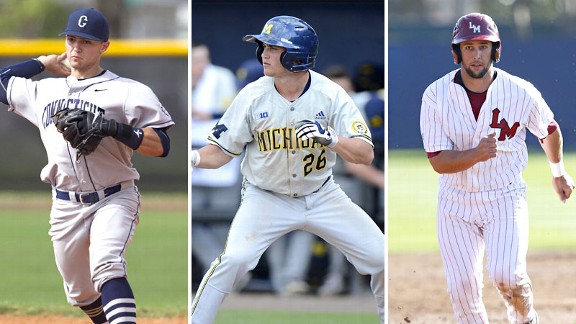 Associated Press
Draft picks (l to r) LJ Mazzilli, Patrick Biondi and Colton Plaia are on board with the Mets.NEW YORK -- LJ Mazzilli, the UConn product and son of ex-Met Lee Mazzilli, will man second base for the Brooklyn Cyclones, who open play Monday.
First-round pick Dominic Smith is expected to sign soon and be assigned to the Gulf Coast League.
Signings from the draft confirmed by the Mets:
Rd. 6 (176), Champ Stuart, CF, Brevard (N.C.) College
Rd. 8 (236), Ricky Knapp, RHP, Florida Gulf Coast
Rd. 9 (266), Patrick Biondi, CF, Michigan
Rd. 10 (296), Luis Guillorme, SS, Coral Springs (Fla.) Charter HS
Rd. 12 (356th overall), Jeff McNeil, SS, Cal St. Long Beach
Rd. 13 (386th overall), Kevin McGowan, RHP, Franklin Pierce
Rd. 15 (446th overall), Colton Plaia, C, Loyola Marymount
Rd. 16 (476th overall), Zach Mathieu, 1B, Franklin Pierce
Rd. 18 (536th overall), Brent McMinn, RHP, Nevada
Rd. 23 (686th overall), Gaither Bumgardner, RHP, South Carolina Upstate
Rd. 34 (1016th overall), Cameron Griffin, RHP, Santa Ana College
The Mets also have signed third-round picks Ivan Wilson for $624,900 and Casey Meisner for $500,000 and 11th-round pick Ty Bashlor for $550,000, according to Baseball America. Seventh-round pick Matt Oberste has tweeted he has signed and will play with Brooklyn.