NEW YORK -- Zack Wheeler is expected to remain with Triple-A Las Vegas and throw his between-starts bullpen session with the Pacific Coast League club before joining the Mets on Monday in Atlanta.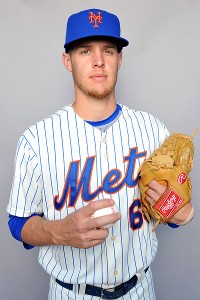 Steve Mitchell/USA TODAY Sports
Zack Wheeler is due to join the Mets on Monday.
Wheeler then will pitch the nightcap Tuesday at Turner Field -- 30 miles from his Dallas, Ga., home.
Sandy Alderson insisted Wheeler pitching the night game of Tuesday's split doubleheader had zero to do with TV ratings.
Terry Collins said the nighttime assignment is designed to keep Wheeler in a routine.
"We thought it would be better for him, more comfortable for him, to continue on what he's used to doing, and that's pitching the night game -- give him a chance to get to the ballpark at his regular time, go through his regular routine, without having to get there in the morning at 9 o'clock and not maybe have enough time to get himself prepared," Collins said.
"That came into it more than anything."
Asked if there was merit to letting Wheeler pitch the day game when there should be a fraction of the people at Turner Field, Collins said:
"You're not going to take the pressure away from this guy. You can pitch him in a boneyard. You're not going to take the pressure off this guy. Everybody in this [media] room is going to be there. People are going to be there. It doesn't matter if it's at noon, or if it's at 1, or if it's at 7. It's a big league game. It's his first major league start. There's going to be a lot of heat on him. He's going to put it on himself.
"I just thought: Put him where he's the most comfortable, and that would be to pitch in the second game."