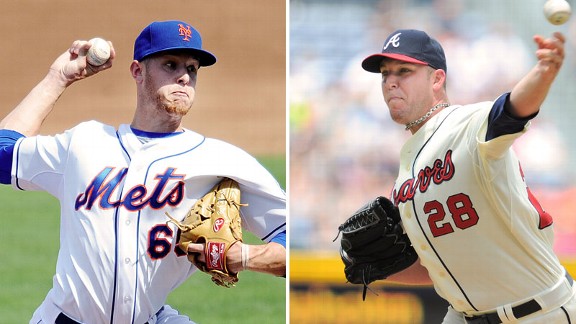 USA TODAY Sports
Zack Wheeler draws Paul Maholm in the top prospect's major league debut.METS (25-39, fourth place/NL East) vs. ATLANTA BRAVES (41-28, first place/NL East)
Monday: RHP Dillon Gee (5-6, 4.84) vs. RHP Tim Hudson (4-6, 4.41), 7:10 p.m. ET
Tuesday: RHP Matt Harvey (5-1, 2.04) vs. LHP Alex Wood (0-0, 3.52), 1:10 p.m. ET; RHP Zack Wheeler (4-2, 3.93 at Triple-A Las Vegas) vs. LHP Paul Maholm (7-5, 3.65), 7:10 p.m. ET
Wednesday: RHP Shaun Marcum (0-8, 5.43) vs. RHP Kris Medlen (3-7, 3.09), 7:10 p.m. ET
Thursday: LHP Jonathon Niese (3-6, 4.15) vs. LHP Mike Minor (8-2, 2.68), 7:10 p.m. ET
Braves short hops
• Brandon Beachy, who intended to return from the disabled list for a Tuesday start against the Mets, had a setback in his rehab from Tommy John surgery and will remain on the DL. Beachy had elbow soreness during a three-inning minor league start Thursday, although a subsequent MRI revealed no structural damage.
Rookie Alex Wood instead should make his first major league start, after six relief appearances. Wood, a second-round pick in 2012 out of the University of Georgia, last started with Double-A Mississippi five days before his May 30 major league promotion.
• Justin Upton is averaging 427.9 feet per homer, the top distance in the majors. Mike Napoli ranks second at 422.1 feet.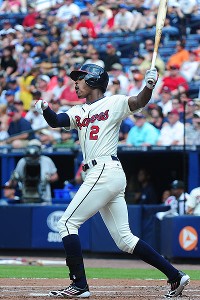 Scott Cunningham/Getty Images
B.J. Upton's production has improved in June.
• B.J. Upton entered Sunday 4-for-43 with runners in scoring position this season, the lowest average in the NL, although he did then have an RBI double in the rubber-game win against the San Francisco Giants. He signed a five-year, $75.25 million contract as a free agent during the offseason.
After producing a .230 on-base percentage and .245 slugging percentage entering June, B.J. Upton is 11-for-44 with four homers, eight RBIs and nine walks in June. He has climbed from eighth to seventh to sixth in the batting order over the past week.
• Catcher Evan Gattis has claimed both NL Rookie of the Month Awards this season. He is 6-for-8 with four homers as a pinch hitter this season. Gattis is the first Braves player with four pinch-hit homers in a season since Tommy Gregg in 1990. The franchise record is five pinch-hit homers, by Butch Nieman in 1945.
• Shortstop Andrelton Simmons' 2.3 dWAR rating makes him the most valuable fielder statistically in MLB. Baltimore Orioles third baseman Manny Machado ranks second at 2.0.
Simmons, 23, could become the youngest shortstop ever to win the NL Gold Glove, and the youngest shortstop overall since Alan Trammell in 1980. Like Arizona Diamondbacks shortstop Didi Gregorius and ESPN.com No. 1-rated prospect Jurickson Profar of the Texas Rangers, Simmons is a shortstop from Curacao. Gregorius, incidentally, did not play shortstop until age 16 because for the previous decade he played second base in the same infield with Simmons.
• Second baseman Dan Uggla is on pace to become the first Braves player to lead the NL in strikeouts since Dale Murphy in 1985. Uggla is missing on a league-high 38 percent of his swings.
• Kris Medlen's 1.95 ERA since last year's All-Star break leads the majors. Medlen homered while tossing 6 2/3 scoreless innings at Dodger Stadium on June 8. He joined Tim Hudson and Mike Minor in homering this season. The last time three Braves pitchers homered in the same season: 1999, with Greg Maddux, John Smoltz and Kevin Millwood.
• The Braves are 23-8 at Turner Field this season. Their 2.32 home ERA is on track to be a franchise record since moving to Atlanta, topping a 2.48 home staff ERA in 1968. It also is on pace for the best home ERA for any team since the 1988 Mets had a 2.31 ERA at Shea Stadium.
• Atlanta leads the NL in homers, yet has been shut out nine times this season, tied with Miami for the major league lead.
• Juan Francisco was traded to the Milwaukee Brewers on June 3 for minor league left-hander Thomas Keeling, affirming Chris Johnson as the primary third baseman, with occasional appearances by ex-Yankee Ramiro Pena.
• Brian McCann produced his 1,000th career hit on June 3. He is the fourth catcher in Braves history to reach that plateau, joining Del Crandall (1,176), Javy Lopez (1,148) and Joe Torre (1,087).