ATLANTA -- Fred Wilpon, speaking with Newsday on Monday, said he is confident in Sandy Alderson's plan for the Mets. The 76-year-old principal owner added that things should improve as big salary outlays come off the books.
"We're coming to the end of the time when we have had an overhang of players who got hurt or didn't play well, and I think that Sandy Alderson and his staff have a plan," Wilpon told the newspaper. "I know some people are impatient about it. But they do have a plan and they're executing on their plan and I think things are in the right direction. It's hard to say that when the team loses four, five in a row.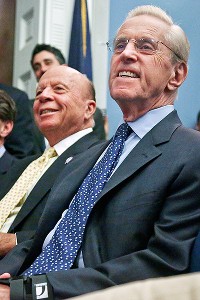 Bebeto Matthews/Associated Press
Fred Wilpon feels your pain.
"I get it, I suffer with it. I think that we have to see that plan become successful because in today's world it's not how much money you spend -- although we have invested a lot of money. Some of it has been wasted because right now we have a [large] payroll and 50 percent of the payroll is not playing."
Wilpon was referring to Johan Santana, who is making $31 million this season with a 2014 buyout, and Jason Bay, who was bought out for $21 million, although $16 million is deferred one to two years.
"That's a shame," Wilpon told Newsday. "It might be very different if they were [available]. But that's part of life. You have to go on and see how you can address that, and I think as an organization we're addressing those needs. ...
"Turnarounds sometimes come a lot faster if the fundamental issues have been addressed. Not just dreaming a turnaround is going to happen, but if the fundamental issues have been addressed, then there's a good possibility turnarounds can occur faster than people think. ...
"This franchise is a very big part of our family," Wilpon continued. "We are as passionate as any fan out there to want to do well. We can't always pick the players, obviously. Sometimes we've done very well, people who have represented us have done very well. Sometimes they haven't. I've been around a very long time. I do get it. I try these days to have two faces of the organization and they're not mine or [son] Jeff's. They're really good representatives -- Sandy and Terry [Collins] are really good people."