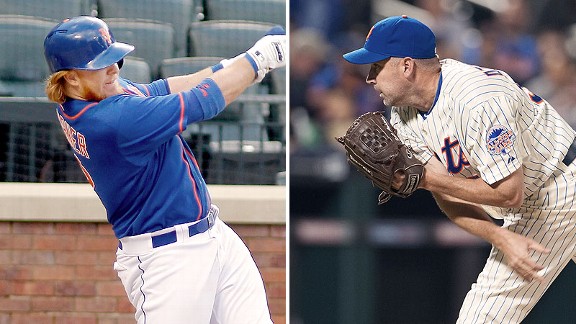 Getty Images
Justin Turner is expected to land on the DL on Tuesday, with Scott Atchison activated.ATLANTA -- Terry Collins expects Justin Turner to land on the disabled list Tuesday with a strained intercostal muscle on his left side.
Turner stayed behind in New York when the Mets left for Atlanta on Sunday night. He underwent an MRI on Monday morning at the Hospital for Special Surgery. Collins said Turner had been bothered by the injury for a few days.
With the Mets allowed to carry 26 players on Tuesday for the doubleheader, Collins expected the Mets would place Turner on the DL, activate Zack Wheeler and Scott Atchison from the DL, and play a bench player down for the day.
Atchison has been on the DL since feeling numbness in the fingers on his pitching hand during a May 13 appearance at St. Louis. He pitched on back-to-back days with Double-A Binghamton to complete a rehab assignment.
Collins said Jordany Valdespin would serve as Omar Quintanilla's backup at shortstop.