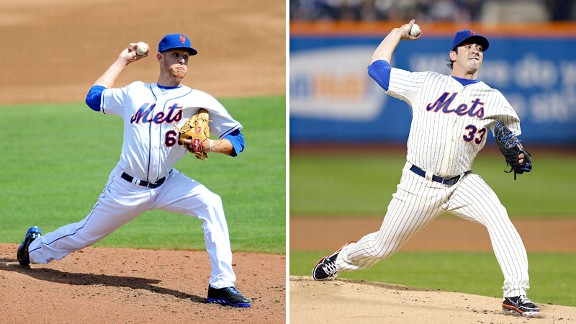 USA TODAY Sports/Getty Images
Tuesday's double feature is the Matt Harvey and Zack Wheeler Shows.ATLANTA -- Asked if he wanted Zack Wheeler to emulate how Matt Harvey carries himself, Terry Collins deadpanned Monday afternoon: "You mean find him a supermodel?"
More seriously, Collins said, Anthony Recker likely will catch Wheeler in Game 2 of Tuesday's doubleheader, after John Buck catches Harvey in the matinee.
Collins indicated Wheeler probably would not be officially activated until the nightcap and therefore should be at the stadium but not in the dugout during the first game.
"I'll tell you what's going to be fun: to see them back to back when they go two nights in a row," Collins said. "That'll be fun to see.
"Tomorrow is a fun day," the manager continued. "It's a great thing for this organization and its fan base to see what the future is going to be like. We've got two young guys that are going to be very, very, very good. And pitching is the name of this game. We're going to run two guys out there tomorrow that can take this organization north pretty fast."