ATLANTA -- After a three-hour, 43-minute rain delay, then a scoreless effort for eight innings, the Mets suffered a painful late-night defeat.
After carrying a shutout bid into the ninth inning, Dillon Gee surrendered a pair of runs as the Atlanta Braves beat the Mets, 2-1, on Monday night/Tuesday morning at Turner Field.
Justin Upton began the comeback bid with a one-out single in the bottom of the ninth. Freddie Freeman then delivered a walk-off two-run homer on pitch No. 101.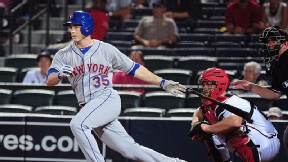 Scott Cunningham/Getty Images
Dillon Gee delivered an RBI single in the seventh, but could not hold on with two outs to go.
Gee had been working on a three-hit shutout through eight innings and had driven in the lone run in a game that began at 10:53 p.m.
With John Buck on second base and two outs in the seventh inning of a scoreless tie, Gee delivered an RBI single through the left side of the infield against Tim Hudson.
Gee had been bidding to become the sixth pitcher in franchise history to drive in the lone run in a 1-0 win, according to statistician Eric Hornick. He would have joined Nino Espinosa, Ray Sadecki and Buzz Capra as well as the tandem of Jerry Koosman and Don Caldwell, who performed the feat in dual 1-0 wins in a 1969 doubleheader.
Gee's pitch count was at a modest 64 when he batted in the seventh.
Despite dealing with elbow tendinitis of late, Gee continued a solid string of outings. He nonetheless had his three-game winning streak painfully snapped. He has a 1.53 ERA (five runs allowed in 29 1/3 innings) in his past four starts, striking out 32 and walking four during that stretch.
Gee's lone complete game remains on a technicality: a rain-shortened six-inning win against the Chicago Cubs on May 25, 2011.
Dude! Lucas Duda, playing first base for the first time this season, went 4-for-4. The hit total matched his career high. The last time he achieved that total also came at Turner Field, on Sept. 16, 2011.
Duda also fielded a bounced throw from second baseman Daniel Murphy for the final out of the eighth with the tying run in scoring position.
What's next: Matt Harvey and Zack Wheeler Day!
Harvey (5-1, 2.04 ERA) faces rookie left-hander Alex Wood (0-0, 3.52) in the 1:10 p.m. game Tuesday. Wheeler then makes his major league debut at 7:10 p.m. opposite left-hander Paul Maholm (7-5, 3.65).
Scott Atchison is expected to be activated from the DL, while Justin Turner (intercostal strain) likely is headed there.