ATLANTA
FIRST PITCH: Zack Wheeler did not find out about his promotion the traditional way: getting surprised by a call into the Triple-A manager's office and orders to proceed to the airport.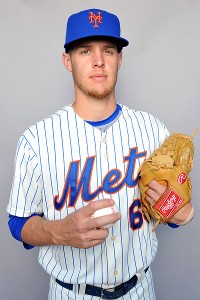 Steve Mitchell/USA TODAY Sports
Zack Wheeler makes his major league debut tonight.
Projections for his call-up -- first speculation, then a more concrete date -- spread even before his final Triple-A start.
"They sort of hinted it to me, and I saw all you guys writing about it and stuff over Twitter," Wheeler said Monday afternoon, at a press conference at Turner Field. "It wasn't the go-into-the-office-and-they-tell-me-and-everybody-is-all-excited. Nothing like that. They told me I had one more start. And, after that, Wally [Backman] told me I was going up."
Wheeler -- who spent Sunday night at home in Dallas, Ga., hanging out with his brothers and three childhood buddies -- makes his major league debut in tonight's 7:10 nightcap at Turner Field, on Matt Harvey Day.
Harvey (5-1, 2.04 ERA) opposes rookie left-hander Alex Wood (0-0, 3.52) at 1:10 p.m. Wheeler then draws left-hander Paul Maholm (7-5, 3.65) in the evening.
Tuesday's news reports:
• Dillon Gee drove in a run and took a scoreless effort into the ninth before surrendering a walk-off two-run homer to Freddie Freeman as the Braves beat the Mets, 2-1, at 1:22 a.m. at Turner Field. The game started after a three-hour, 43-minute rain delay. Lucas Duda, in his first game at first base, went 4-for-4.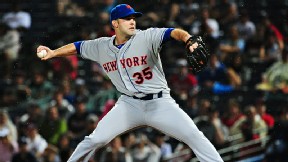 Scott Cunningham/Getty Images
Dillon Gee took a scoreless effort into the ninth inning.
Read game recaps in the Post, Daily News, Star-Ledger, Record, Newsday and MLB.com.
• Duda is the Mets' latest first baseman, with Daniel Murphy returning to second base and Kirk Nieuwenhuis and Juan Lagares both starting in the outfield. Read more in the Daily News, Star-Ledger, Record and Newsday.
• Fred Wilpon said he is suffering with the losing, just like the fans, but the principal owner expressed confidence in Sandy Alderson and Terry Collins and suggested things will improve now that payroll dead weight is clearing. Read more in Newsday.
• Justin Turner, who has a strained intercostal muscle on his left side, is expected to land on the disabled list today. Scott Atchison should be activated from the DL, Collins said. The Mets will be able to carry 26 players today for the doubleheader. Read more in Newsday.
• Bob Costas apologized to the Mets a day after suggesting their walk-off celebration Sunday was an "indication of the ongoing decline of Western civilization." Read more in the Post, Newsday and Daily News.
• Wheeler's debut should help SNY's sagging ratings. Writes Neil Best in Newsday:
SNY is on pace for the lowest Mets ratings in its eight-season history, stuck with a team out of contention earlier than any other in that span, and suddenly has been gifted with a marquee attraction.
"I think this team, fan base, organization, and maybe a little bit the announcers, need a jolt of excitement, and he provides that," [Ron] Darling said of Wheeler.
Writes columnist John Harper in the Daily News:
The arrival of a phenom, particularly a pitcher who can produce oohs and aahs with every swing and miss at his high, hard one, is always a major event for any team, in any city. And yet it just feels bigger than all of that for Zack Wheeler and the Mets at the moment.
The Plan, after all, depends on it.
It was only a few days ago that GM Sandy Alderson, speaking to season-ticket holders at Citi Field, admitted that his pleas for patience are wearing thin three years into his tenure, but then made a proclamation of sorts:
"We're almost there."
Are they?
Alderson's plan to contend by 2014 has been hurt by the disappointing play of Ike Davis and Ruben Tejada, but the big picture has always been about building around the young pitching, in particular Matt Harvey and Wheeler.
One of Wheeler's prized possessions growing up was a signed Dwight Gooden jersey personalized to him with Doc's autograph. Wheeler's brother Adam obtained it while playing in the Yankees system, writes Jim Baumbach in Newsday.
Tom Seaver has advice for Wheeler, writes Steve Serby in the Post.
Columnist David Lennon in Newsday writes today will be a much-scrutinized doubleheader. Jay Schreiber in the Times reflects on a Sept. 12, 1969 doubleheader in which the Mets won a pair of 1-0 games against the Pittsburgh Pirates behind dominant pitching performances from Jerry Koosman and Don Cardwell.
Read more on Wheeler in the Times, Post, Daily News, Record, Journal, Newsday and MLB.com.
• Catching prospect Travis d'Arnaud has been cleared to begin a running program as he returns from a broken foot.
• Center fielder Matt den Dekker, who suffered a fractured right wrist in spring training, resumed playing in minor league games.
• The South Atlantic League All-Star Game takes place tonight in Lakewood, N.J. The Mets' Savannah affiliate has sent Jayce Boyd, Kevin Plawecki, Brandon Nimmo, Bret Mitchell as well as Beck Wheeler, who replaces Gabriel Ynoa (who logged five innings Sunday).
• Matt Bowman tossed six scoreless innings as St. Lucie beat Charlotte, 3-0. Brooklyn lost its season opener, 2-1, at Staten Island on two unearned runs that came on shortstop Gavin Cecchini's error. LJ Mazzilli had two hits in his Cyclones debut. "I was nervous, I'm not going to lie," Mazzilli told the Daily News. "After that first hit, it felt like the whole world was off my shoulders."
Read the full minor league recap here.
BIRTHDAYS: Sandy Alomar Jr. turns 47. … Reliever Felix Heredia is 38. … Outfielder Ben Johnson, who arrived in the Heath Bell trade with the San Diego Padres, turns 32.
TWEET OF THE DAY:
I will spend most of the day today watching the #Mets play baseball. I will regret it. I can't help it. I was born this way. #metsfan

— Bill Loehfelm (@BillLoehfelm) June 18, 2013
YOU'RE UP: What do you predict Zack Wheeler's pitching line will be tonight?