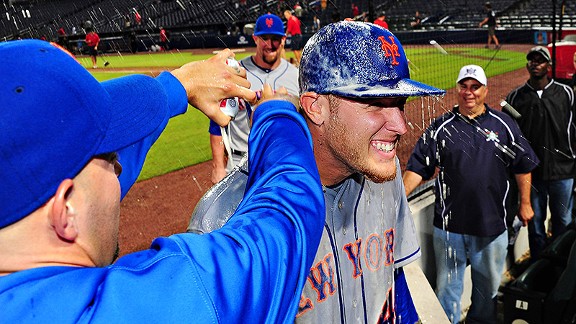 Scott Cunningham/Getty Images
Zack Wheeler's teammates doused him with beverages after his first major league win.ATLANTA
FIRST PITCH: The Mets may rival the Miami Marlins for futility in 2013, but Matt Harvey and Zack Wheeler -- 1A and 1B – offer the hope to fans of better days to come.
"They're going to enjoy watching these two guys for a long time," Terry Collins said after Harvey and Wheeler earned the victories in a doubleheader sweep at Turner Field on Tuesday. "They're going to be around and they're going to be in the same rotation. You've got two guys that can win some baseball games for you."
Wednesday's news reports:
• Harvey took a no-hit bid into the seventh inning of Game 1 and the Mets narrowly held on for a 4-3 win thanks to Bobby Parnell's four-out save. Wheeler, despite walking five batters, then tossed six scoreless innings in the nightcap as the Mets swept Atlanta with a 6-1 victory. Harvey believed a no-hitter was attainable until Jason Heyward produced a leadoff infield single up the first-base line in the seventh. Wheeler described himself as amped up early for his major league debut.
Writes columnist Bob Klapisch in the Record:
Listen hard enough and you could almost pick up the dog-whistle message after the Mets had finished sweeping the Braves on Tuesday: The suffering is over. Matt Harvey and Zack Wheeler did more than offer a beta version of better times ahead. This was chicken soup for Flushing's battered soul.
It almost wouldn't have mattered how the franchise's two best pitching prospects fared -- the fact that Harvey and Wheeler were on display, exploding the radar gun in the high 90s, served as its own medicine. But the day turned out better than that for the Mets. Much better, in fact.
Writes columnist John Harper in the Daily News:
At the very least, Super Tuesday was a showcase of dazzling pitching talent for Mets fans to savor, and, who knows, it may come to be remembered as the start of something big. There are miles to go to make that happen, and with the Mets, you know there is bound to be more misfortune along the way.
Still, it was quite the 10 hours or so.
Writes Brian Costa in the Journal:
Matt Harvey in the day game. Zack Wheeler in the night game. A legitimate ace and a potential ace, both out of the Mets' farm system, together in a doubleheader loaded with intrigue. Harvey chased a no-hitter. Wheeler made a stellar big-league debut.
Awful as they may be, the Mets deserved to stop and enjoy this. And if you've suffered through the sorry spectacle that is Mets baseball recently, how could you not? It was a proud day for an organization that hasn't had many of them.
Read game recaps in the Post, Daily News, Star-Ledger, Record, Newsday, Times, Journal and MLB.com as well as columnist Mike Vaccaro's take in the Post and columnist David Lennon's take in Newsday.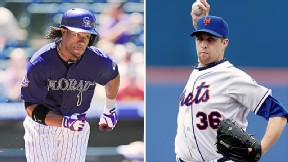 Getty Images
The Mets acquired Eric Young Jr. from Colorado for Collin McHugh.
• In a flurry of late-night maneuvers, the Mets traded right-hander Collin McHugh to the Colorado Rockies for second baseman/outfielder Eric Young Jr., promoted outfielder/first baseman Andrew Brown from Triple-A Las Vegas and designated Collin Cowgill for assignment. The Mets also are expected to place Scott Atchison (groin) on the disabled list today. Atchison had just been activated from the DL on Tuesday morning, when Justin Turner landed on the DL with a strained intercostal muscle on his left side.
The final move Tuesday night involved sending Wheeler back to Triple-A Las Vegas, which is playing in Tucson, Ariz., through Friday. Wheeler will return in time for Tuesday's start against the Chicago White Sox in the Windy City.
Read more in the Star-Ledger, Newsday, Daily News and MLB.com.
• Straight-talking New Jersey governor Chris Christie told schoolchildren about his affection for the Mets while saying they "stink" and are "awful." Read more in the Star-Ledger.
• First-round pick Dominic Smith is imminently signing with the Mets. Newsday reported the deal will be worth $2.6 million -- about $200,000 below slot.
• Ex-Met Fernando Martinez has been traded by the Houston Astros to the Yankees.
• Asked if New York hosting the All-Star game should factor into whether Harvey should start the spectacle, San Francisco Giants/NL manager Bruce Bochy told SiriusXM:
"Well, it would play a part in it, sure. … That could play a part in my decision. These are things [Giants pitching coach] Dave Righetti and I will talk about, but I think it should play a part, to be honest. Now, I also believe that whoever deserves to go, whoever deserves to start that game should get that. But all things even, then I think you look at something like that -- a guy that's in his hometown pitching."
• Some Mets fans took offense to a Braves announcer hoping on air that Harvey would strain an oblique Tuesday. Watch the YouTube clip here.
• Dustin Lawley produced a game-tying two-run homer in the seventh, then had a walk-off RBI double two innings later as St. Lucie beat Charlotte, 7-6. Read the full minor league recap here.
• Dwight Gooden has taken notice of the attention Wheeler's debut received. "It's been incredible the way that people have been so eager to see him -- if that excitement is channeled right it could really help him," Gooden told Roger Rubin in the Daily News.
• Michael Salfino in the Journal chronicles the Mets' history of late-inning collapses at Turner Field.
• From the bloggers … Faith and Fear notes Wheeler is the first Met born in the 1990s and examines the debuts of other decade-'firsters' in franchise history.
BIRTHDAYS: McHugh, who was traded to the Rockies last night, turns 26. … Bruce Chen, now with the Royals, turns 36. … Claudio Vargas is 35.
TWEET OF THE DAY:
Excited to now be apart of the @Mets family. Can't wait to meet/play with my new teammates, and play in NY!

— Eric Young Jr (@EYJr) June 19, 2013
YOU'RE UP: Do you like the acquisition of Eric Young Jr.?