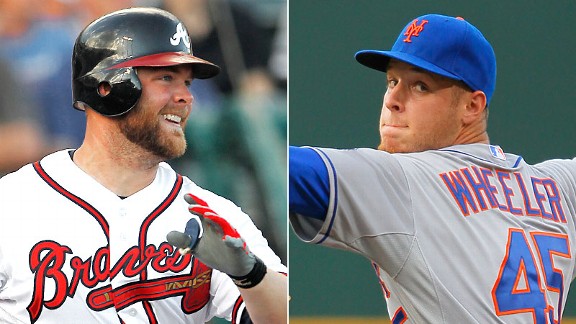 Associated Press
Brian McCann says Zack Wheeler will be an ace.ATLANTA -- Count Atlanta Braves catcher Brian McCann among the fans of Zack Wheeler after going 0-for-2 with a walk and strikeout against the debuting Mets prospect on Tuesday night.
"He's going to be a No. 1 for a long time," McCann said. "They've got him and [Matt] Harvey -- and you throw [Dillon] Gee and [Jon] Niese in the mix -- they're headed in the right direction. That's for sure. You throw two power arms like that at the top of your rotation -- the sky's the limit for those two guys."
McCann and Wheeler, as well as Chipper Jones, are represented by the same agent. McCann has known Wheeler since the right-hander was drafted sixth overall by the San Francisco Giants in 2009.
"Facing him last night, his fastball is obviously electric," McCann said. "He also threw some really good changeups in there. He threw a good slider, a good curveball. I think once he realizes the situations -- what he can and can't do -- he's going to be a top-of-the-rotation guy for a long time."
McCann excused Wheeler's five walks as jitters. McCann, like Wheeler, grew up in Georgia and made his major league debut at Turner Field.
Said McCann: "When you, your whole life, have wanted to get to the big leagues, and all of a sudden you're here pitching in your home state -- it seemed like everyone yesterday was here to see him -- there's going to be nerves. But he settled down, made his pitches when he had to, went six scoreless. You can't ask for much more than he did in his debut."