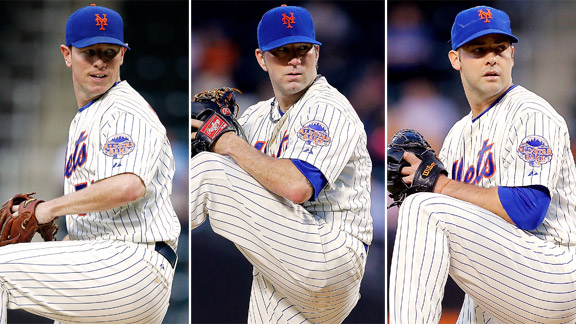 Getty Images
Jeremy Hefner, Shaun Marcum and Dillon Gee need to perform to maintain their rotation spots.ATLANTA -- The clock is ticking on the Mets using a six-man rotation.
Terry Collins suggested the club definitely will return to a conventional rotation by the time the second half begins on July 19. And the manager offered no indication Shaun Marcum, Jeremy Hefner and Dillon Gee all would have rotation spots that long.
"Not very many," Collins said about the remaining number of turns with the extra starter now that Zack Wheeler has entered the rotation. "I mean, I don't have a number in mind. Probably one more. We'll see where everything fits after that. Out of the All-Star break we'll be at five for sure."
The six-man rotation had been prompted in part by Jonathon Niese and Gee dealing with tendinitis issues, with the thinking being that extra rest would benefit them.
Marcum is not immune from losing his rotation spot because of his $4 million base salary. And with the way Gee has pitched over his last four starts, Marcum is starting to look even more vulnerable. The other option, barring an injury in the interim, would be to move Hefner to the bullpen or option him to Triple-A Las Vegas.
Marcum does have some serious bonus-money opportunities the Mets can get around by bouncing him from the rotation. He enters tonight's start against the Atlanta Braves at 0-8 with a 5.43 ERA. He allowed six runs in 5 2/3 innings against the Chicago Cubs in his last start.
"When we get back to five guys, I think we're going to take the five guys that we think are the best to run out there every fifth day, and what gives us the best opportunity to win," Collins said.
Asked if who might be most adaptable to bullpen work might be a factor in which starter to bounce, Collins said: "No. 1, you've got to take the five best starters -- the guys you think are going to be the best guys. If that means one of them has got to slide to the bullpen -- and if they can't do -- you have to make some other arrangements.
"There could be somebody who may have some options who ... has to go to Triple-A to stay sharp. But that's a long way off right now."