ATLANTA -- Ike Davis went 2-for-2 with three walks Wednesday with Triple-A Las Vegas at Tucson. And Terry Collins suggests the work with 51s hitting coach George Greer and manager Wally Backman is resulting in material -- and needed -- changes to Davis' swing.
"They say he's made real good strides," Collins said. "They're trying to calm the hitch down -- not have it so big. They're trying to keep his upper body back, behind the baseball a little bit more -- keep his head in a little bit better. His stride had got him to where he's lunging. They've got him on the plate a little bit better. They're keeping his front hip in, instead of having it fly, which sometimes can cause the shoulders to come off the ball. The grip of the bat has helped him free up his hands a little bit -- more toward your fingers and less toward your palm.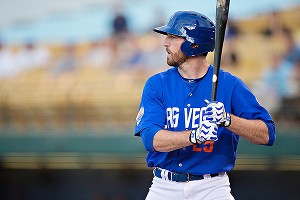 Julie Jacobson/Associated Press
Ike Davis reached base five times Wednesday.
"The report was he's listening, trying everything that they're asking him. They've thought he's made big strides because he's just seeing the ball better. He's really cut down the strike zone, shrink it a little bit to get better pitches to hit. It was a good night for him last night, but again, I don't know who's pitching."
Overall, Davis is hitting .258 with a .439 on-base percentage in nine games.
Asked if he had a date targeted for Davis' return, Collins deadpanned: "Yeah, tomorrow. I'd like him back tomorrow."
More seriously, the manager added: "When he starts swinging good, that's when he'll be back. I don't have any date. And as I said when we sent him out, I don't think it's going to happen overnight. It's going to be a process of getting comfortable with what he's working on. And when he gets back here, guess what? The game speeds up. So he's going to have to make another adjustment when he gets here because it's just a different game at this level."
Collins acknowledged the hitch reduction is a major adjustment that is not easy.
"The whole timing of trying to get his hands in position has got to get fixed," Collins said. "And that's the biggest thing. When that happens, the rest of his thing is easy to adjust. Because that [hitch] has been part of his swing for so long, that's the No. 1 area he's got to correct. So it's going to be hard. That's a major part of his swing that's got to change."