PHILADELPHIA -- Jordany Valdespin did it again. This time it went for naught.
A half-inning after the Mets completed a rally from a six-run deficit, Carlos Torres served up a walk-off homer in the bottom of the ninth to Kevin Frandsen as the Philadelphia Phillies survived for an 8-7 win against the Mets on Saturday at Citizens Bank Park.
A year after Valdespin burst onto the major league stage with a tiebreaking pinch-hit homer against Jonathan Papelbon for his first major league homer, JV1 again homered in the ninth inning against the closer. This time, the one-out solo shot pulled the Mets within 7-6. The Mets then benefited from some Phillies sloppiness to even the score.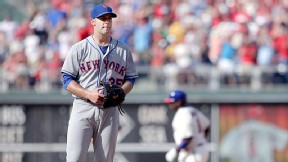 H. Rumph Jr./Associated Press
Ryan Howard homered twice against Dillon Gee.
David Wright reached on third baseman Michael Young's error. Stealing second with two outs and Daniel Murphy at the plate, Wright scored on the play when Murphy punched a single through the vacated hole at shortstop and center fielder Ben Revere flubbed picking up the baseball.
Papelbon suffered his third blown save this season -- and this week.
Oh, Gee: Next time, Dillon Gee might want to pitch around Ryan Howard.
Howard continued to torment the right-hander, homering twice and driving in four runs against Gee.
Howard is now a career 7-for-15 with six homers and 14 RBIs against Gee. He has gone deep in five of the six games in which they have met.
Fellow nemesis Michael Young also had a solo homer against Gee, whose streak of stellar starts was snapped at four.
The all-time homer list versus Gee: Howard 6, Young 3, John Mayberry Jr. 2, Alex Gonzalez 2, Ian Desmond 2, Travis Ishikawa 2.
Gee ultimately was charged with six runs (five earned) on eight hits in a 67-pitch effort over five innings. He had produced a 1.53 ERA over his previous four starts.
Gee's career numbers in Philly: 1-2 with a 10.38 ERA in six appearances (five starts).
Comeback: The Mets began their rally from a six-run deficit in the seventh -- the inning after Phillies starter Jonathan Pettibone was forced to depart with lower-back tightness.
After Omar Quintanilla's RBI single pulled the Mets within 7-2, Josh Satin walked to load the bases and chase Michael Stutes. Eric Young Jr. followed with a two-run double against Justin De Fratus. Valdespin then had an RBI groundout as the Mets pulled within two, 7-5.
The four-run frame ended when left-hander Jacob Diekman entered and struck out a perturbed Murphy looking, stranding two runners.
Satin, who is due to start at first base Sunday, has reached base in six straight plate appearances (three hits, three walks).
Buck-E: John Buck had a passed ball in the first inning that contributed to an unearned run charged to Gee.
With Greg Burke pitching in the sixth, Ben Revere stole second and third against the tandem and scored on Buck's errant throw to third base as the Phillies took a 7-1 lead.
Welcome back: Burke, who surrendered the unearned run in one inning of work, was making his first appearance since returning to the majors this weekend. His promotion coincided with Jonathan Niese landing on the disabled list.
Burke may not be around long. The Mets will need to clear a roster spot Tuesday when Zack Wheeler is re-promoted to face the Chicago White Sox.
What's next: Matt Harvey Day! Harvey (6-1, 2.16 ERA), who took a no-hit bid into the seventh inning in Atlanta in his last start, opposes left-hander John Lannan (0-1, 5.49) in the rubber game at 1:35 p.m. Sunday.