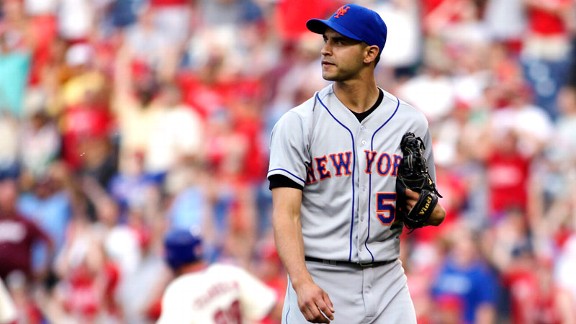 H. Rumph Jr.Associated Press
Carlos Torres walks off the field after surrendering a game-ending homer.PHILADELPHIA -- Carlos Torres' stellar launch to his Mets career came to an end on his second pitch Saturday.
After the Mets overcame a six-run deficit to tie the score in the top of the ninth, Torres served up a leadoff solo home run to Kevin Frandsen -- who revealed he was Torres' nemesis in high school and college -- in the bottom half for an 8-7 Phillies victory.
Torres said he wanted the fastball up and away.
"I completely missed the location, and he hit it," said Torres, who entered the game with 5⅓ scoreless innings since a promotion from Triple-A Las Vegas.
David Wright said there was no moral victory in rallying from the six-run deficit only to lose on Frandsen's walk-off shot.
"There"s no moral victories in the big leagues," the captain said. "There's wins and losses. It's cut and dry. Today sucked, but hopefully we play better tomorrow. We can't get down that much and expect to continue to come back and make these games close, because we're not built to be coming back from six down with nine outs left."
On scoring the tying run from first base in the top half of the ninth, Wright said: "It worked out pretty good for about five minutes."