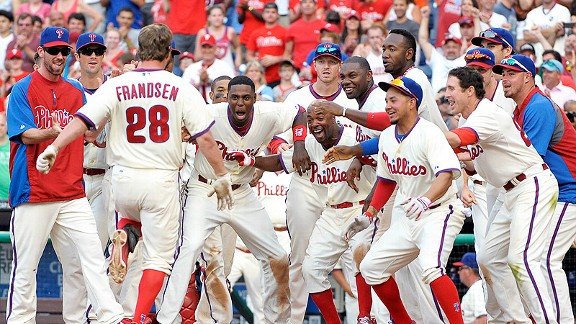 Eric Hartline/USA TODAY Sports
Kevin Frandsen is greeted by teammates after his walk-off homer Saturday.PHILADELPHIA
FIRST PITCH: Five days after his dominance in Atlanta in an uplifting doubleheader display with Zack Wheeler, it once again is Matt Harvey Day.
Harvey (6-1, 2.16 ERA) opposes Philadelphia Phillies left-hander John Lannan (0-1, 5.49) in the 1:35 p.m. series finale today at Citizens Bank Park.
Josh Satin is due to get the start at first base, according to Terry Collins.
Writes Kristie Ackert in the Daily News on Harvey:
Collins and pitching coach Dan Warthen talked to Harvey this past week about being more open with them about how he is feeling during starts.
Harvey admitted after the Atlanta game -- in which he racked up 13 strikeouts -- that he was gassed when he went back out for the eighth and that he did not tell Collins or Warthen. That much was obvious when he started out the inning by walking Gerald Laird and then giving up back-to-back singles to Dan Uggla and Andrelton Simmons. At that point, Collins had no choice but to go get his ace.
Sunday's news reports: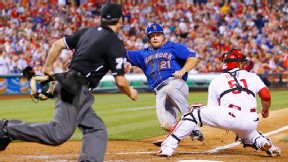 Rich Schultz/Getty Images
Lucas Duda is on the DL after complaining of left side discomfort after Friday's game, which included this play at the plate.
• An MRI on Saturday in New York revealed Lucas Duda had an intercostal muscle strain on his left side. The Mets placed Duda on the disabled list and promoted corner infielder Zach Lutz from Triple-A Las Vegas. A team official told ESPNNewYork.com Ike Davis was not an immediate consideration for a promotion in Duda's absence because more time working on his refinements is required.
Read more in the Post, Daily News, Star-Ledger, Record, Newsday and MLB.com.
• The Mets rallied from a six-run deficit to tie the score in the ninth when David Wright scored from first base on Daniel Murphy's single against Jonathan Papelbon. But Carlos Torres surrendered a walk-off homer to Kevin Frandsen to open the bottom half and the Phillies beat the Mets, 8-7. Dillon Gee surrendered a pair of homers to Ryan Howard, who now has six long balls in 15 career at-bats against Gee.
Read game recaps in the Post, Daily News, Times, Star-Ledger, Record, Newsday and MLB.com.
Read columnist Kevin Kernan's take in the Post.
• Do Wheeler and Harvey need to be best buds? Not exactly Columnist David Lennon in Newsday asks Tom Glavine and Ron Darling, and writes:
Ron Darling, now an SNY analyst, was on two of the better starting rotations in baseball history with the Mets. In 1986, Darling went 15-6 with a 2.81 ERA on a group that included Dwight Gooden (17-6, 2.84), Bobby Ojeda (18-5, 2.57) and Sid Fernandez (16-6, 3.52). Two years later, the Mets featured Darling (17-9, 3.25), Gooden (18-9, 3.19), Fernandez (12-10, 3.03), Ojeda (10-13, 2.88) and David Cone (20-3, 2.22).
Were they all best buddies? No. But did they recognize the importance of competitive bonding as a rotation? Absolutely.
"If you have that fraternity, if you get that feeling that you're all brothers in this thing, it's as good as it gets as far as being in a team sport," Darling said. "Hitters look at pitchers like a necessary evil. You're like a separate element on the team, so it makes you become close.
"There's nothing worse than being on a team -- a bad team -- and you've got some guys in the rotation that they're all for them. And on the day you're pitching, they don't [care]. We'd be on the bench cheering a guy on when it was his day, and making sure that, hey, I'm here for you."
• Columnist Bill Madden in the Daily News suggests that while the Mets have pitching prospects, the hitting prospects do not exist in the minors. Writes Madden:
A veteran National League scout, who has spent much of the last two months evaluating other teams' minor-league talent, told me last week: "The Mets are loaded with pitching prospects but have zero bona fide position prospects, and while the Yankees have a couple of position prospects, especially catchers, down low, I didn't see any potential impact players in their system either. They're both in big trouble as far as filling their needs from within."
• Binghamton rallied from a four-run ninth-inning deficit to beat Erie, 6-5 in 10 innings, on Josh Rodriguez's walk-off double. Steven Matz tossed six scoreless innings in a no-decision for Savannah. First-round pick Dominic Smith went 2-for-4 with an RBI in his pro debut in the Gulf Coast League. Read the full minor league recap here.
• Highly regarded right-handed prospect Noah Syndergaard, who was acquired with Travis d'Arnaud in the R.A. Dickey trade in December, has been promoted to Double-A Binghamton.
• Tim Byrdak, recovering from shoulder surgery, made his first Gulf Coast League appearance. Including back-field games, Byrdak has now pitched on consecutive days twice.
• Dan Duggan in Newsday speaks with 2012 first-round pick Gavin Cecchini about his relationship with his brother Garin, a Red Sox prospect.
• Mike Kerwick in the Record tackles Mets fandom.
• From the bloggers … John Delcos at Mets Report suggests the Mets should not be seduced by Davis' early Pacific Coast League stats.
BIRTHDAYS: Juan Castillo, whose only two major league games came as a starting pitcher with the Mets in 1994, turns 43.
TWEET OF THE DAY:
Im veryproud of my boy @Noahsyndergaard for getting moved up! But dude get your stuff outta of our apartment! @bowmandernchief @cbBaseball29

— Michael Fulmer (@MFulmer12) June 23, 2013
YOU'RE UP: Should the Mets have promoted Ike Davis with Lucas Duda landing on the DL? Or is more minor league time the wise decision?