PHILADELPHIA -- Terry Collins suggested the upcoming stretch of left-handed pitching the Mets are facing, including the particularly imposing Chicago White Sox southpaw Chris Sale on Tuesday, contributed to delaying Ike Davis' return to the majors.
The Mets face lefty John Lannan in today's series finale in Philly. After an off-day, Zack Wheeler opposes Sale on Tuesday. Southpaw John Danks faces the Mets on Wednesday.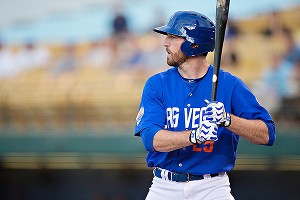 Julie Jacobson/Associated Press
Ike Davis wasn't promoted this weekend, but his Triple-A stint may be nearing an end.
"Sale is really tough on lefties," Collins said. "You don't want to put him back in a funk right away."
Zach Lutz, who had multiple early batting practice sessions with Davis and Mike Baxter while with Triple-A Las Vegas, said Davis' hitch has been eradicated.
Lutz joined the Mets this morning after taking a red-eye from Vegas in the spot created when Lucas Duda landed on the DL with a left intercostal strain.
Davis also has received pointers this week from Triple-A Tucson manager Pat Murphy, who was the head coach at Arizona State when Davis was in college there.
After consecutive two-homer games, Davis went 0-for-3 with a walk and two strikeouts Saturday night against Salt Lake. He is hitting .310 through 12 Pacific Coast League games.
"I think that was some of the thought process: He got hot. That's great," Collins said about the motivation for leaving Davis in Triple-A a little longer. "Can he maintain it? Can he sustain it? And build on it."
Josh Satin is due to start this afternoon at first base, and probably Tuesday in Chicago, according to Collins. Lutz might DH in the American League ballpark, although Collins has checked with David Wright to see if he might be willing to DH one game to get him a semi-rest. Lutz will not be an outfield consideration, despite dabbling there with Las Vegas earlier this season for the first time in his career.
Satin has reached base six straight plate appearances.
"His at-bats have been outstanding," Collins said. "He's drawing bases on balls. He's working counts. He's getting hits. So I want to get him in there. From his brief time here so far I think he deserves an opportunity against left-handed pitching to get in the lineup."
When the Mets again face a right-handed pitcher, Collins said Daniel Murphy would not be a consideration to man first base, as he did Saturday in Philly.
"I'm going to go with somebody else at first base base," Collins said. "It could be somebody different there when we get back and start seeing some right-handed pitching."
Collins then seemed to hint that could be Davis.
As for the duration of Duda's absence, Collins was not sure how long he might be on the DL.
"I've seen them last six weeks," Collins said about intercostal strains. "We lost Dan Murphy for almost the entire spring training this year with one. It can be a real problem, especially when you're real strong like that."
Asked about the Mets' misfortune in losing Justin Turner, Jonathon Niese and Duda to the DL in a five-day span, Collins said: "I feel bad for Wally [Backman] losing half his club."