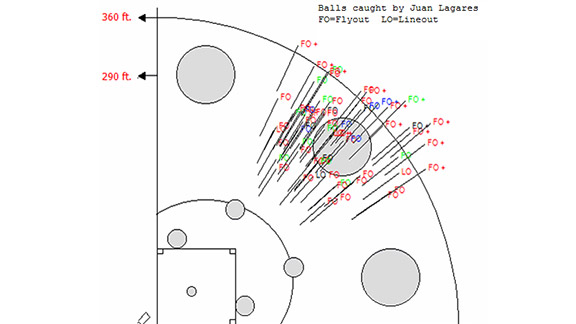 Image provided by Inside Edge
Juan Lagares has gone beyond the usual center fielder's range.
Despite the fact that Juan Lagares has had his ups and downs in his first 103 plate appearances as a Met, he's contributed something pretty significant to the team. That's come on the defensive end.
Lagares has played 230 innings in center field and made a number of notable plays, most memorably a home run-robbing catch on Andrew McCutchen in the ninth inning against the Pirates on May 9.
We can quantify Lagares' ability to go get the ball both in the image above (which shows every catch he's made) and in a stat known as "Out of Zone" plays, findable on Fangraphs.com.
Baseball Info Solutions has created a system in which the field is gridded into different zones for each position, a zone defined as an area in which more than half the batted balls fielded by that position are turned into outs.
Mets CF Out of Zone Catches
An "out of zone" catch is one made in an area in which less than half the batted balls are turned into outs.
The average center fielder makes an "out of zone" catch every 14 innings. Lagares has made one every seven innings, basically amounting to one per game.
Those catches add to Lagares' value, though they've come at a cost of letting some balls drop in within his zones. The net payoff has been good, particularly when you factor in that he's also thrown out four baserunners attempting to take an extra base. And the Mets are adjusting to the player they have.
"It changes a lot when you've got a center fielder who can go get it in center field," manager Terry Collins said after Friday's win. "When Juan first got here, he played a little deeper than he is right now.
"I think he's getting more comfortable with playing here. He realizes, these guys, even though they're big and strong, there's going to be more balls that land in front of you instead of over your head. So he has moved in quite a bit.
"[Outfield coach] Tommy [Goodwin] has spent quite a bit of time with him to get him to understand that he can go get it over his head. And he's done a good job."