FIRST PITCH: Zack Wheeler makes his second major league start as the Mets open a two-game series on the South Side of the Windy City against the Chicago White Sox.
Wheeler, who tossed six scoreless innings in his major league debut a week ago against the Atlanta Braves, opposes left-hander Chris Sale (5-6, 2.69 ERA) at 8:10 p.m. ET. Wheeler aims to cut down his walk total after issuing five bases on balls in his victorious first big league start.
Still, pitching coach Dan Warthen told the Post: "When you throw six shutout innings in Atlanta, that's pretty damn good. At that particular time he had B.J. Upton hitting behind [Freddie] Freeman, and Freeman was swinging the bat extremely well, so we didn't care whether we walked him. So there was a couple of the walks that were almost intentional. So now we're down to really three walks that truly happened against him throwing poor pitches."
The only other time the Mets played the White Sox in Chicago came in 2002, in a Bobby Valentine versus Jerry Manuel managerial matchup. Joe McEwing, now the White Sox's third base coach, played for that Mets squad.
Read the series preview here.
Tuesday's news reports: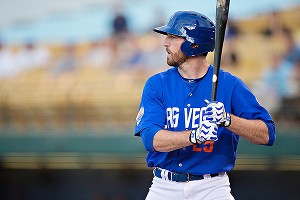 Julie Jacobson/Associated Press
Ike Davis has five homers in his past four games with Triple-A Las Vegas.
• Ike Davis probably can do without the distinction, but he has been named Pacific Coast League Player of the Week after slugging four homers in a two-day span at Tucson. Zach Lutz instead received a promotion last weekend when Lucas Duda landed on the disabled list. Davis should return to the Mets as soon as Thursday at Colorado. Davis is a lifetime .375 hitter (9-for-24) at Coors Field. And the Rockies are expected to throw a right-hander, Tyler Chatwood, that day. Davis, incidentally, homered again last night as part of a 2-for-3 game with a walk against Salt Lake. Read more in the Post.
• Marc Carig in Newsday profiles Wheeler. Writes Carig:
Zack Wheeler wanted to fit in, so he did what he had always done and followed the lead of his older brothers. On his first day at a new high school in a new town, he slipped on a jersey and baggy jeans, the kind that his brothers used to wear.
"Then I come out here and everybody's wearing polos and they're like frat kids," Wheeler said earlier this year, not far from the Georgia high school from which he started his journey to the major leagues. "Everybody was making fun of me."
Eventually, he made the transition, just as he has done at every stop since that first day at East Paulding High School in Dallas, Ga. And Tuesday, when he arrives for his start against the White Sox at U.S. Cellular Field in Chicago, the 23-year-old again will depend upon his adaptability.
Writes columnist Kevin Kernan in the Post: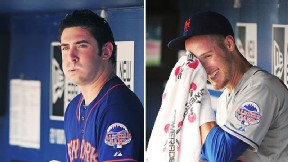 Getty Images
Matt Harvey and Zack Wheeler can give the Mets a formidable one-two punch atop the rotation.
In the post-steroids era, the value of two power starters cannot be understated. A true power pitcher in this generation of wild swingers is worth his weight in baseball gold, and to have two of them would catapult any team to success -- even the Mets.
Read columnist Bill Madden's take in the Daily News.
Read more on Wheeler in the Record, Star-Ledger and Daily News.
• David Wright's recent surge has coincided with production from Marlon Byrd hitting behind him -- which means pitchers cannot be as willing to pitch around the captain. Writes Jared Diamond in the Journal:
From 2006 through 2009, when Wright hit in a lineup that also featured Carlos Beltran and Carlos Delgado, Wright saw a strike on 50 percent of the pitches he faced. He compiled a .911 OPS over that span.
When Wright's protection dried up, so did the pitches to hit. From 2010 through 2012, he saw a strike just 44.8 percent of the time, with the likes of Jason Bay, Ike Davis and Lucas Duda often hitting behind him. He posted an .845 OPS in those years.
In recent weeks, Wright started seeing strikes again, in large part because teams respect Byrd's power. He and Wright lead the team with five homers apiece in June. Wright attributed a portion of his success to Byrd, saying, "I'm seeing better pitches to hit. No question."
• The Mets have signed 35-year-old right-hander Giancarlo Alvarado to a minor league contract, the Post's Mike Puma reported. The Puerto Rico-born Alvarado, pitching for Saltillo, is 0-2 with a 4.03 ERA in eight appearances (seven starts) in the Mexican League. He is coming off an outing in which he allowed 10 runs (six earned) in 4 1/3 innings.
• Erik Goeddel tossed seven scoreless innings as Binghamton beat Portland, 3-0. Pedro Feliciano with the B-Mets and Tim Byrdak with Class A St. Lucie each tossed scoreless innings. Read the full minor league recap here.
• From the bloggers … Faith and Fear in Flushing writes that a pack of 2012 Las Vegas 51s baseball cards turned out to hold a valuable Mets lesson. … The Eddie Kranepool Society suggests this season is starting to get a bit of a 1968 feel as Matt Harvey is starting to give off a Seaver-esque aura that is rubbing off on his teammates.
BIRTHDAYS: Carlos Delgado turns 41. … Alejandro Pena is 54. … Aaron Sele is 43. … Kane Davis turns 38.
TWEET OF THE DAY:
Tough off day. Took a shower with my blackberry. Ruined it. Now have IPhone. Even Rice didn't help. pic.twitter.com/ueEZMoTYHK

— Jay Horwitz (@Jay_HorwitzPR) June 24, 2013
YOU'RE UP: Can the Mets make a run at .500?