CHICAGO -- Matt Harvey will appear in ESPN The Magazine's fifth annual "The Body Issue," which hits newsstands Friday, July 12.
Harvey quietly did the shoot earlier this month in a hotel conference room. Harvey said he was approached about the shoot and did not initiate the interest.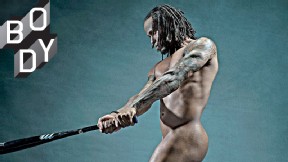 ESPN The Magazine
Matt Harvey is the second Met to appear in "The Body Issue." He joins Jose Reyes (pictured), who appeared in 2011.
In all, 21 athletes will pose nude, including San Francisco 49ers quarterback Colin Kaepernick, three-time beach volleyball gold medalist Kerri Walsh Jennings, Marlins slugger Giancarlo Stanton and five-time WNBA All-Star Swin Cash.
"It was really cool," Harvey said. "It was definitely kind of nerve-wracking at first. I've never been fully nude in front of random people like that before, especially with a camera around. But now it's all done with. It was a fun experience. It's going to be a cool issue. ... I take pride in eating healthy and keeping my body in shape in the best possible way of staying healthy, as do all the other athletes."
What did Harvey's parents think?
"Well, they know how serious I am with everything -- with eating properly and working out and really making sure my body is in the proper place to stay healthy and have a long career," Harvey said. "They came up with this magazine to show that, and show how the athletes' bodies are in different sports. They definitely were a little nervous about it at first. They're on board with every decision me and the Boras people make."
Harvey does expect some grief from teammates.
"Oh yeah," Harvey said. "I take it with a grain of salt, and whatever comes my way comes my way. At the time it seemed like a good opportunity and something I was excited about doing. I might as well get it out of the way when I'm young and have the opportunity to have a decent body, and hopefully we keep that going."
He thought the shoot went well.
"After maybe 15, 20 shots, I peeked at the computer after they were uploading them," Harvey said. "They looked pretty good. Hopefully they'll help me out a little bit -- add a couple of more abs."
As for the theme of the shoot, Harvey added: "I'm not going to spill the beans. You'll have to get the magazine."