DENVER -- David Wright insists he did not protest when Terry Collins decided to give the third baseman the day off for today's makeup game against the Colorado Rockies.
Wright recognized he needed the day off, despite hitting .383 with five homers and 11 RBIs over his past 19 games. And, Wright added, he needed a full day off. Serving as designated hitter during the two-game interleague series in Chicago this week would not achieved the same thing, he suggested.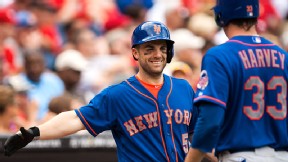 Win McNamee/Getty Images
David Wright gets a rare day off today at Coors Field. He isn't complaining.
"DH is playing, isn't it?" Wright asked. "It's good, especially with the rainouts for us and doubleheaders and stuff. As much as you'd like to play, you understand that these are good for you, especially when your goal is to play 155, 160, 156 games. These are the types of days, when the manager says he wants to give you a day, that sometimes it's best just to oblige and take it, because you obviously play better when you are rested. Especially with the way I want to play, it's much better when I'm a little more rested."
Wright, who turned 30 in December, is a career .392 hitter with 10 homers and 38 RBIs in 120 at-bats at Coors Field. So did it really have to be here?
Well, the Mets faced two left-handers against the White Sox. So this made more sense from that perspective, since righty Tyler Chatwood pitches for the Rockies tonight. And the Mets face the Washington Nationals this weekend at Citi Field.
"I like to, in a perfect world, play at home, play against division rivals," Wright said. "So that leaves very few choices. You don't ever judge or determine an off-day by where, or what you do at a ballpark. At least I don't. And then with the travel, obviously getting in late last night, getting in to New York late tonight, TC and I thought today would be the day.
"You need a day every once in a while physically and I think, just as importantly, mentally to be able to relax a little bit and just kind of get refreshed. I think we've got 15 or 16 in a row after today before our next off-day. The schedule makers and the rain and the weather hasn't been too kind to us the first half."
Wright's only other non-start came April 29. He ended up pinch-hitting in the 13th inning that day.
Wright seemed more resistant to accepting off-days earlier in his career. Maybe that is maturing and recognizing performance for the long haul can improve with strategic days off that guard against getting worn down. Maybe it's a function of being 30 years old and feeling extra aches and really needing it.
Whatever the case, Wright suggested he never really had the goal of playing 162 games.
"If it was, it's not this year," Wright said about the goal of playing every game of a season. "It would be nice, but on the other hand, I would like to play the 155, 156 and have a little more quality than to just go out there for the sake of saying you played 162. Going into the season you're gung-ho, and the work you do in the offseason, you tell yourself, 'Let's try to play them all this year.' And then once you get a couple of months into a season you start reevaluating that."