DENVER -- Two months later, the temperature is sweltering in Denver, in the mid-90s. But when the Mets made their originally scheduled trip to Minnesota and Colorado in April, the temperatures were in the 20s and snow was piling up.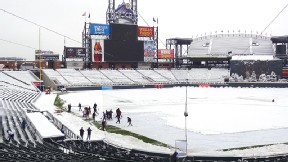 Adam Rubin
Coors Field was blanketed by snow when the Mets visited here in April.
Terry Collins suggested the adverse weather conditions at the start of the season no doubt had an adverse affect on his players -- more than by snow-outs and other postponements stalling momentum from a strong start. Collins believes the most dramatic weather impact was felt by Jonathon Niese.
"I think it beat up his body," Collins said. "I think he had to work extra hard. It's freezing cold. ... He's the only guy who is really starting to get warm when he's on the mound. Everyone else is standing out there. He and the catcher are really the only two guys with continual movement. When he'd come in, he'd get so chilled between innings, it was tough to go back out there and get loose. So now he had to work even harder to keep himself warm. I just think it took a beating on him."
Collins said he could not go so far as to assign Niese's current rotator cuff tear to pitching in the April cold.
But Niese earlier this season started to make that leap.
Niese had back/neck woes at the beginning of the season (perhaps from the exertion in the cold), which caused his arm angle to drop. And those altered mechanics, in turn, might have caused the shoulder tendinitis to crop up, Niese suggested.