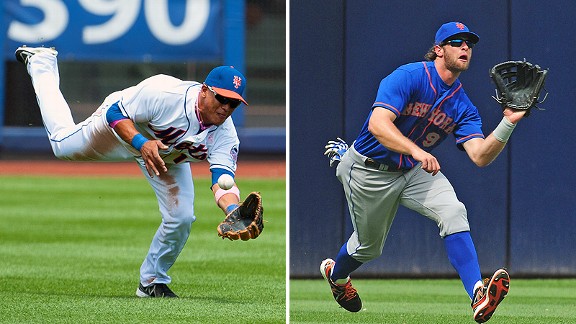 Getty Images
Juan Lagares is patrolling center field at Coors Field tonight, not Kirk Nieuwenhuis.DENVER -- Juan Lagares has received a healthy dose of playing time of late, in part because the Mets have faced a slew of lefty pitching. In fact, Lagares has started 10 of the Mets' last 13 games.
Perhaps a mild surprise, with the Mets facing a righty pitcher tonight, Terry Collins decided to stick with Lagares in center field over lefty-hitting Kirk Nieuwenhuis.
Collins insisted that was not a slight against Nieuwenhuis, who almost definitely will start Saturday against debuting Washington Nationals right-hander Taylor Jordan.
Collins said the motivation for starting Lagares over Nieuwenhuis tonight was simply a function of putting the player who can cover the most ground in center field at spacious Coors Field.
"I thought about getting Kirk in there today," Collins said. "We talked about it. Not that he can't handle center field here. Believe me, that's not the point. But this guy [Lagares] is really a good defender. In this outfield, you better find somebody who can really play defense and put him in center field here. And so we said, 'You know what? We're going to go with him for a couple of more days.' We'll make some determinations of where we are on Saturday morning."
Nieuwenhuis is not due for much playing time immediately after Saturday. The Mets are due to face a southpaw Sunday as well as the first two games of the ensuing Diamondbacks series.
Collins expects to give Marlon Byrd off on Saturday off against the righty.