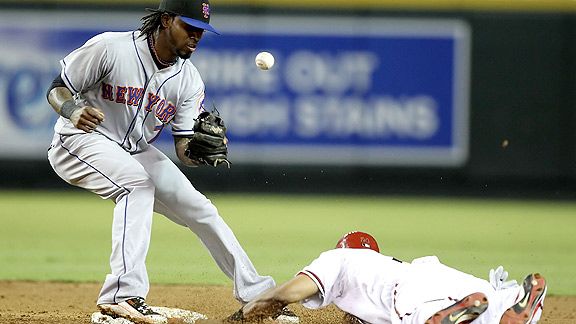 Christian Petersen/Getty Images
Jose Reyes indicated he got through Monday's return to the lineup without physical issues, although he missed this second-inning throw from Rod Barajas.
Jose Reyes not only reentered the lineup for the first time in nine days, he also batted from the left side of the plate in a game for the first time since injuring his right oblique muscle taking batting practice in San Juan on June 30.
Afterward, Reyes said he got through the game with no issues.
"The first AB I was a little concerned because I didn't hit in the game in a long time. But after I made the first swing, everything was normal," said Reyes, who went 2-for-5, including a ninth-inning RBI double, in the Mets' lopsided 13-2 loss to the Arizona Diamondbacks on Monday night.
Reyes was charged with two errors. In the first inning, he threw to first base trying to complete a 3-6-1 double play, but Mike Pelfrey was slow covering and Reyes threw the ball into the dugout fence, allowing Kelly Johnson to score from second base. An inning later, Reyes completely missed a throw from Rod Barajas on an attempted steal.
"I should have made those plays," Reyes said. "The groundball to [Ike] Davis, I made that throw to first base. I have to keep that ball -- not throw it to first base there in that situation. But sometimes that's going to happen. It's part of the game."
On the second-inning error, Reyes said the ball almost hit him.
"That ball almost hit me in my face," he said. "I felt the ball a little in my face. I lost that ball. I don't know what happened."
It wasn't a good feeling sensing the ball whiz by.
"I got hit in the face one year in rookie ball," he said. "A groundball hit me there. I had to get like four stitches."
Reyes was pleased to be reunited with Luis Castillo as a double-play tandem, and to be in the same lineup with Carlos Beltran for the first time since May 20, 2009. Castillo singled in his first at-bat and went 2-for-4 in his return from the disabled list.
"It's been a long time for us to be together -- Beltran, me, Castillo, the whole team together," Reyes said. "That's good to see. It was kind of a tough game today, but we still have two games here. So hopefully we can win this series."