DENVER -- Before each home game, Marlon Byrd has a special routine with outfield coach Tom Goodwin that involves fielding balls in right field and trying to throw with precision to second and third base.
The marksmanship he practices has been on display in games at critical points.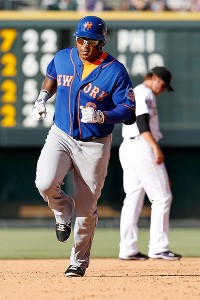 David Zalubowski/Associated Press
Marlon Byrd's two-run homer in the eighth lifted the Mets to a 3-2 win.
The latest example: Yes, Byrd's two-homer run in the eighth against Matt Belisle was the difference in lifting the Mets to a 3-2 win against the Colorado Rockies at Coors Field on Thursday. But Byrd's throw from right field to nail Michael Cuddyer attempting to stretch a hit into a double to open the bottom of the ninth also proved vitally important in preserving the one-run lead.
Byrd now has a team-leading five outfield assists. Juan Lagares ranks second with three. No other Mets outfielder has more than one assist.
The five assists are tied for second in the NL among right fielders. Arizona's Gerardo Parra has a league-leading seven.
"I started with Gary Varsho in the minor leagues," Byrd said, explaining the origin of his pregame routine. "I really picked it up with Gary Pettis when I was with the Texas Rangers, and it carried over when I was with the Cubs. And then me and 'Goody,' every single day at home I try to get some throws in just to make sure I know it's there."
Said Terry Collins: "He might be the only outfielder we've got that does it. But when we're at home, Goody will hit him balls, and he'll throw to second and third base. Therefore the accuracy is what it is, because he works at it."
Byrd said he was not surprised Cuddyer aggressively attempted to get into scoring position to open the bottom of the ninth against Bobby Parnell after singling past Josh Satin at first base.
"No, no, no. That's that old-school Minnesota Twins baseball," Byrd said, referring to the organization that groomed Cuddyer before he departed as a free agent for Colorado. "Cuddyer knows how to play the game. And he was trying to put pressure on the defense, which I know that he does. I just came up and made a decent throw."
Byrd had been a part-time player at best at one point this season, but he has now started 17 straight games in right field. Collins plans to finally give him off Saturday, when the Mets face a righty starter. Byrd has been credited with helping David Wright's production by offering him protection as the cleanup hitter, although Wright had Thursday's game off.
"A couple of weeks ago we kept trying to piece and mix and match -- lefty-right matchups," Collins said. "When it was all said and done, after everyone had similar at-bats, this guy had the best numbers. He was driving in runs. He was hitting some home runs. I just said: He's got to be the guy. He's got great confidence in what he's doing right now."
Collins said Byrd stepping up and allowing to the Mets to finish the four-city trip at 7-4 was enormous.
"It's a huge pickup. It's a big step for us," Collins said. "We've been trying to grind it out. I'll tell you what: This is not disrespect to the Rockies, because they've got injuries like everybody else, and they've got a nice club. But when you can win a game without David Wright in our lineup, that's huge for us. That's enormous. That means somebody else had to really step up and do the job."