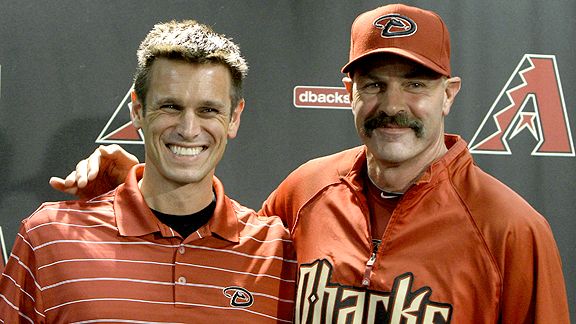 AP Photo/Ross D. Franklin
Former Mets reliever Jerry DiPoto (left), who grew up a Mets fan in Toms River, N.J., is now Diamondbacks interim GM. He's paired with Kirk Gibson, Arizona's interim manager.
The office of the interim general manager of the Arizona Diamondbacks is decorated with New York Mets memorabilia. Well, more precisely, Tom Seaver memorabilia.
Jerry DiPoto, who grew up in Toms River, N.J., and pitched as a reliever for the Mets in 1995 and '96, grew up a fan of the organization. He even named a son Jonah Seaver DiPoto after the Hall of Fame pitcher.
DiPoto was named interim GM of the Diamondbacks this month, when Josh Byrnes was fired.
"I've actually developed a little relationship in the years since, particularly toward the tail end of my years with the Mets," DiPoto said, referring to Seaver. "He wrote a letter to my son essentially giving him permission to wear the number 41 should he ever get to the big leagues and play for the Mets. So that hangs over my son's bed, although he probably isn't aware of the significance of number 41. Now he almost 14 years old. It's something if you asked him to name the first baseball player that came to his mind, he might not say me. He might say Tom Seaver, because it's been drilled into his head."
DiPoto may have groomed himself for his current role during his days with the Mets. He annually organized the team's fantasy football pool, and was a dominant force in it as a general manager for years.
"It was pretty large. We had a lot of fun to play in the Mets' fantasy football league for years," DiPoto said. "My cohort was Pete Harnisch -- one of my closest friends. We actually ran the league together for a number of years, even after we left."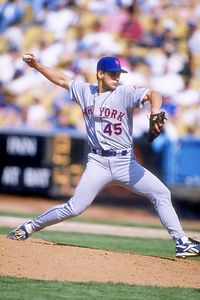 Al Bello/Getty Images
Jerry DiPoto throws a pitch during a Mets game at Dodger Stadium on June 5, 1995.
DiPoto, now 42, was a combined 11-8 with a 3.97 ERA and two saves in 115 relief appearances for the Mets over two seasons. He also pitched for the Cleveland Indians and Colorado Rockies during a major league career that spanned 1993-2000.
The year before joining the Mets, DiPoto had a cancerous thyroid gland removed during spring training. He had reappeared in the major leagues by June of that '94 season. After retiring, "within two hours" he was working in the front office for the Rockies.
He recalled being a "high school foe" of Al Leiter. His extended family remains in New Jersey.
"A lot of things stood out about it," DiPoto recalled about his Mets days. "I was born in New Jersey and grew up a Mets fan. So the two years I was able to play in New York were a lot of fun for me. It was a chance to realize a boyhood dream -- to play for your favorite boyhood club.
"They weren't great years for the Mets. They were OK years in regard to performance. One I would consider having contributed a good deal. Another not so much. The one thing I will always remember is the thrill the first time I got to put the uniform on because it's something I honestly dreamed of my whole life."
His favorite players -- aside, of course, from Seaver?
"Lee Mazzilli, Steve Henderson, Buddy Harrelson," DiPoto said. "There was a crew of Mets players that kind of stuck together for a while in the period shortly after free agency began that I certainly had an affinity for, and I still do."
Not that DiPoto will look to steer frontline pitcher Dan Haren to the Mets in a trade or anything like that. Instead, DiPoto is looking to team with interim manager Kirk Gibson to build a winner in Arizona and remain in their roles beyond this season.
"That was the growing-up phase," DiPoto said about his Mets fandom. "Once you get into pro ball, your allegiance is where you work. Right now, we're going to go through this not knowing how it goes for the next two weeks. But our efforts are going to be toward maintaining a positive environment, creating a culture here that I think we've been a little short on in recent years, and allowing Gibby to do his thing."
DiPoto has no assurance his job will continue beyond the 2010 season.
"The way I've approached my career -- I've been in some capacity in professional baseball for 22 years -- every day is an audition," he said. "Nobody ever promises you much for tomorrow. It all depends on what you do today. The way I accept this is the same way I accepted my playing career. You go out there and do the best job you can do, with the team coming first. And I think Gibby is wired the same way. And whatever happens, happens."
As for the affinity for Seaver, DiPoto rattled off the articles on display in his Diamondbacks office.
"I've got a lot of Tom's memorabilia," he said. "An old jersey, pictures of him, things that he's signed to me that are some of my most valued possessions."
What about a bottle of wine from Seaver's vineyard?
"No, unfortunately," DiPoto said. "I may well do that on Aug. 1."
Adam Rubin's 'In-depth' look at the Mets will appear selected Tuesdays during the season