FIRST PITCH: The only chance to catch Zack Wheeler at Citi Field before the All-Star break has arrived.
Wheeler makes his home debut when the Mets complete a three-game series with the Washington Nationals today at 1:10 p.m. He opposes left-hander Gio Gonzalez. It also happens to be David Wright bobblehead day.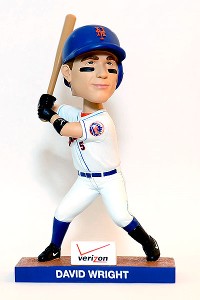 Courtesy of New York Mets
It's David Wright bobblehead day at Citi Field.
Wheeler tossed six scoreless innings in his major league debut on June 18 at Atlanta. Working on a full week of rest, he then surrendered four runs in 5 1/3 innings at Chicago in an interleague series.
Pitching coach Dan Warthen worked with Wheeler between starts to try to remedy the rookie's pitch tipping. Wheeler had different arm angles for different pitches, the Mets have acknowledged.
Wheeler's final two first-half starts will come on the road. He lines up to pitch at Milwaukee on Friday, then at San Francisco on July 10. The Giants, of course, are the team that dealt Wheeler to the Mets before the trading deadline two years ago for Carlos Beltran.
Sunday's news reports:
• Dillon Gee limited the Nationals to one run in six innings and Carlos Torres and LaTroy Hawkins combined for three scoreless relief innings as the Mets won, 5-1, Saturday at Citi Field.
Gee has a 2.48 ERA over his past six starts. He is 3-0 this season and 6-1 in his career against Washington.
The Mets are 4-3 against the Nats this season after going 4-14 in the season series last year.
Read game recaps in the Post, Daily News, Newsday, Times, Star-Ledger, Record and MLB.com.
• For the first time since May 23, Jenrry Mejia made a minor league appearance. Mejia, who has battled a forearm issue since spring training, started in the Gulf Coast League on Saturday. The 23-year-old right-hander pitched 1 2/3 innings. He was charged with three hits and two unearned runs while issuing one walk.
• Jonathon Niese's follow-up MRI will be Thursday at the Hospital for Special Surgery. When Niese landed on the DL with a partial tear of the rotator cuff in his left shoulder, the Mets indicated he would have a follow-up exam two weeks later to see if any healing occurred. While Niese and team officials have expressed optimism the southpaw can avoid surgery, the follow-up exam with Mets doctors this week will help make that determination.
Writes Anthony DiComo at MLB.com:
Niese estimated that, assuming his MRI comes up clean, he will need to rest for two to three weeks before beginning a two- to three-week rehab progression. At that point, in mid-August, he could be ready to return to the Mets. Though Niese called his initial MRI results last week "kind of scary," he believes he will be able to pitch again this season.
"I feel strong," said Niese, who is under team control through 2018 with a guaranteed contract through 2016. "I'm sure it will come up better."
• Ruben Tejada, playing in his second official rehab game in the Gulf Coast League, went 0-for-3 with two strikeouts and logged seven innings at shortstop. He is 1-for-5 with a double through two games.
• Ike Davis was ejected from Triple-A Las Vegas' game in the third inning for arguing a called third strike. With Mike Baxter scratched with his wife due to give birth, the Mets were forced to use pitcher D.J. Mitchell in right field and shift Eric Campbell from the outfield to first base. The only position player on the bench was backup catcher Kai Gronauer.
Davis went 1-for-2 before getting tossed. He is now hitting .288 with five homers and 10 RBIs in 59 at-bats spanning 17 games with the Pacific Coast League club.
The Mets face three more straight left-handed pitchers: Gonzalez on Sunday, then Arizona Diamondbacks southpaws Wade Miley and Patrick Corbin the following two days. The Mets finally resume facing right-handed pitching on Wednesday, so that should be the next date to eye for a potential Davis return to the majors.
Terry Collins said Davis will be the everyday first baseman when he returns.
"We're not going to bring Ike back to be platooned," Collins said. "I can tell you that."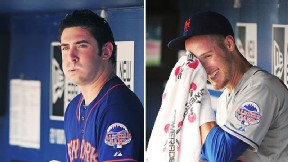 Getty Images
Matt Harvey and Zack Wheeler will face innings caps this season.
• The Mets do not like their young pitchers increasing their workload more than 30-35 innings over the previous season, which is consistent with the industry standard. So that means Matt Harvey and Wheeler both should have innings caps in 2013.
Sandy Alderson previously has identified 180 to 185 innings as Wheeler's cap. He is at 80 innings right now between Triple-A and the majors.
Harvey logged 169 1/3 innings last year. Terry Collins told reporters Saturday the cap likely would be 215 to 220 innings -- although that seems more than the standard 30- to 35-inning jump. Harvey currently is at 117 innings. Regardless, the goal would be to moderate Harvey's workload by giving extra days between starts or cutting short the length of outings in the second half, not ending his season early for a second straight year, Collins indicated.
"Always remember something: We are not going to hinder this kid's health by killing him now when the future is so bright," Collins said, according to Newsday. "We are not going to jeopardize what's down the road for right now. We're not going to do it."
• Columnist Joel Sherman in the Post picks Harvey as the midseason NL Cy Young winner, with Clayton Kershaw the runner-up. The rest of the top five: Adam Wainwright, Cliff Lee and Patrick Corbin.
• Read more on Wheeler's home debut in the Post, Daily News, Star-Ledger, Record, Newsday and MLB.com.
• Columnist Steve Serby in the Post suggests the future looks bright with Harvey and Wheeler.
• Las Vegas has successfully plugged its rotation for now even with Wheeler and Torres in the majors and Collin McHugh traded. On Friday night, Giancarlo Alvarado -- who was signed out of the Mexican League -- tossed six scoreless innings in his organization debut. Then, Jacob deGrom retired the final 15 batters he faced and limited Tacoma to one run and three hits in seven innings Saturday as the 51s beat the Rainiers, 4-1. Tim Byrdak allowed two runs on two hits, a walk and wild pitch while recording two outs in St. Lucie's 12-2 loss to Fort Myers.
• Ex-Mets outfielder Jeff Francoeur has been designated for assignment by the Kansas City Royals. He was hitting .208 with three homers and 13 RBIs in 183 at-bats. Francoeur is due to earn $6.75 million this season. Read more in the Kansas City Star.
• Bud Harrelson, a two-time All-Star, reflects on those experiences with Ian Cutler in Newsday.
• The Mets and Yankees have some statistical similarities, Cody Derespina writes in Newsday.
• From the bloggers … John Delcos at Mets Report writes that the Mets are wasting their best asset: Harvey's contribution.
BIRTHDAYS: '69 Met Ron Swoboda, now a broadcaster for Triple-A New Orleans, turns 69. … Tony Fernandez is 51. … Chan Ho Park turns 40.
TWEET OF THE DAY:
These Yankees are awful...The #Mets on the other hand had a great game.

— Sohali (@sohali2012) June 30, 2013
YOU'RE UP: Should Ike Davis get the full-time first baseman's role back upon returning?