NEW YORK -- Zack Wheeler's Citi Field initiation went well for 13 pitches.
After breezing through the first inning in third major league start and Flushing debut, Wheeler served up a first-pitch homer to Adam LaRoche on a 94 mph fastball to open the second inning. Wheeler allowed four runs that frame, then surrendered a solo homer to Jayson Werth in the third.
Wheeler ultimately was tagged with his first major league loss as the Washington Nationals beat the Mets, 13-2, in Sunday's rubber game.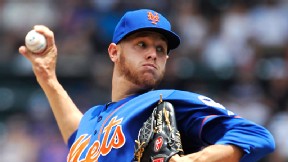 Kathy Kmonicek/Associated Press
Zack Wheeler surrendered five runs in 4 2/3 innings in his home debut.
Brandon Lyon was charged with six eighth-inning runs, including a two-run homer by Kurt Suzuki. It was the most runs allowed by a Mets reliever since Manny Acosta surrendered seven while recording only one out against the Colorado Rockies on April 27, 2012.
Catcher Anthony Recker, who had a handful of appearances in college, pitched the ninth inning. He issued six straight balls, then a monster two-run homer to Ian Desmond, before recording three outs. Fellow catcher Rob Johnson in Toronto on May 18, 2012 was the last Mets position player to take the mound.
John Buck's two-run homer in the ninth prevented the shutout.
The Wheeler home debut/David Wright bobblehead day drew an announced paid crowd of 33,366 to Citi Field -- the stadium's second-highest attendance this season. The Mets had an announced crowd of 41,053 on Opening Day against the San Diego Padres. Today unseated the May 27 Subway Series game against the Yankees (32,911) as the runner-up.
Wheeler's final line: 4.2 IP, 6 H, 5 R, 5 ER, 2 BB, 5 K, 1 WP, 2 HR. He threw 89 pitches (54 strikes). His ERA rose to 5.06.
David Aardsma stranded runners inherited on the corners from Wheeler by striking out Werth to prevent further damage.
Mets starters had produced a 1.65 ERA against the Nats this season entering Wheeler's outing.
Early speed bumps are not atypical for a rookie pitcher. Matt Harvey, for instance, allowed five runs -- including homers to Chase Headley and Yonder Alonso -- in five innings in his third major league start, on Aug. 5, 2012 at San Diego.
No offense: The Mets mustered only three hits against Gio Gonzalez in seven innings. Those came on a first-inning single by Daniel Murphy (after third baseman Ryan Zimmerman was unable to run down Murphy's foul pop near the tarp), a leadoff double in the fourth by Wright and a single by Josh Satin in the seventh.
Payback? Gonzalez sent a high-and-tight fastball in the direction of Wright's head while ahead in the count, 0-2, in the first inning. In the sixth, Aardsma plunked Desmond.
Streakers: Eric Young Jr.'s hitting streak ended at eight games with an 0-for-4 day. Satin extended his career-high hitting streak to six games. He has reached base in 11 straight games.
What's next: The NL West-leading Arizona Diamondbacks visit Citi Field for a four-game series. Shaun Marcum (1-9, 5.08 ERA) opposes left-hander Wade Miley (4-7, 4.55) in Monday's 7:10 p.m. opener. In his last start, Marcum tossed eight scoreless innings and earned his first Mets win at the Chicago White Sox on Wednesday.