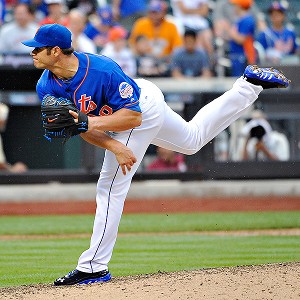 Kathy Kmonicek/Associated Press
Anthony Recker pitched the final inning of the Mets' 13-2 loss to the Nats.
NEW YORK -- Anthony Recker had warmed up previously this season, but went uncalled upon for relief work. This time, with the Mets trailing by 11 runs, Terry Collins did turn to the backup catcher to pitch the final inning.
John Buck's analysis of Recker's pitches: "Straight."
Recker walked Jayson Werth on four pitches, then fell behind Ian Desmond, 2-0, before serving up a two-run homer. He retired the next three batters, giving him a career major league ERA of 18.00.
Recker had pitched a handful of innings at Alvernia (Pa.) University, where he was teammates for a season with Zach Lutz. He registered 86-88 mph Sunday, and lamented not being able to get ahead in the count so he could throw pitches other than his fastball. Recker does experiment with a knuckleball.
"Obviously the situation arose where I could help out by throwing an inning and saving the bullpen a little bit," Recker said. "... It was different. I just tried to have fun with it, basically. They told me to throw strikes. I tried to throw strikes, but it didn't work too well apparently. I threw a couple -- enough, I guess. I got three outs. I just tried to stay within myself. I didn't want to go out there and break anything. Obviously that's one of the things they told me before I went out: Just don't hurt yourself."
Asked if he had ever caught a position player before, Buck deadpanned: "Yeah, I played for the Royals, man. It was not my first blowout."