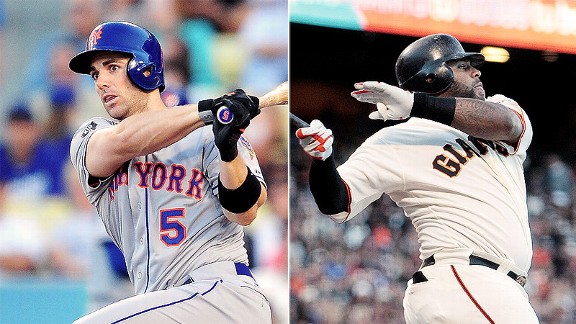 US Presswire
David Wright has overtaken Pablo Sandoval at third base in All-Star voting released Sunday.NEW YORK -- David Wright is moving toward claiming the starting assignment at third base for the National League in the All-Star Game.
Wright has surged ahead of Pablo "Kung Fu Panda" Sandoval by 842,186 votes in the final tally released before the completed results. He led the Giants third baseman by 128,831 votes nine days earlier.
Internet voting concludes Thursday at 11:59 p.m. Starting lineups will be announced Saturday.
The game will be held July 16 at Citi Field.
First base
Joey Votto, Reds 3,622,608
Paul Goldschmidt, Diamondbacks 3,035,114
Allen Craig, Cardinals 2,525,399
Brandon Belt, Giants 1,804,152
Freddie Freeman, Braves 1,494,604
Second base
Brandon Phillips, Reds 3,411,839
Matt Carpenter, Cardinals 3,186,423
Marco Scutaro, Giants 3,142,783
Daniel Murphy, Mets 1,598,297
Chase Utley, Phillies 1,355,750
Third base
David Wright, Mets 4,452,282
Pablo Sandoval, Giants 3,610,096
David Freese, Cardinals 2,376,121
Chris Johnson, Braves 1,234,095
Ryan Zimmerman, Nationals, 1,072,563
Shortstop
Troy Tulowitzki, Rockies 4,072,834
Brandon Crawford, Giants 2,383,248
Jean Segura, Brewers 2,072,083
Pete Kozma, Cardinals 1,867,781
Andrelton Simmons, Braves 1,192,066
Catcher
Yadier Molina, Cardinals 5,093,645
Buster Posey, Giants 4,674,847
John Buck, Mets 1,446,565
Miguel Montero, Diamondbacks 997,791
Brian McCann, Braves, 997,322
Outfield
Carlos Beltran, Cardinals 5,013,806
Carlos Gonzalez, Rockies 2,928,606
Justin Upton, Braves 2,917,659
Bryce Harper, Nationals 2,902,393
Matt Holliday, Cardinals 2,697,608
Andrew McCutchen, Pirates 2,510,614
Hunter Pence, Giants 2,379,606
Ryan Braun, Brewers 2,331,774
Angel Pagan, Giants 2,016,370
Shin-Soo Choo, Reds 1,960,385
Jon Jay, Cardinals 1,825,513
Carlos Gomez, Brewers 1,746,318
Gregor Blanco, Giants 1,717,194
Jay Bruce, Reds 1,454,721
Domonic Brown, Phillies 1,427,696