NEW YORK -- Catcher Miguel Montero could not hold onto the ball. The Arizona Diamondbacks eventually could not hold on for the win, either.
Cody Ross opened the 13th inning with a homer against David Aardsma, but Andrew Brown's two-run single in the bottom half lifted the Mets to a 5-4 walk-off win against the Diamondbacks.
The Mets had a bevy of chances.
They also had the bases loaded in the bottom of the 11th, but Omar Quintanilla lined out to first base to end the threat.
The Mets had been 4-for-19 with runners in scoring position and had left 18 men on base before the 13th-inning heroics.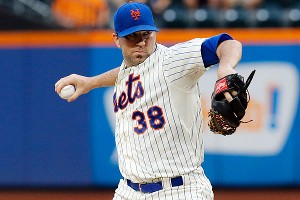 Anthony Gruppuso/USA TODAY Sports
Shaun Marcum was spared his 10th loss with Monday's comeback win.
The eventful game came on the day the Mets have to make their annual $1,193,248.20 payment to Bobby Bonilla -- an obligation that runs through 2035.
With the Mets trailing by a run in the bottom of the ninth, surging Josh Satin's RBI single against ex-Met J.J. Putz evened the score at 3 ... oh so narrowly.
Marlon Byrd, attempting to score the tying run from second base after doubling, would have been nailed at the plate on Satin's single to left field. But Montero dropped the perfect-hop throw from Jason Kubel, which would have been in plenty of time to retire Byrd.
Satin advanced to second on the miscue at the plate. John Buck then walked. But on a would-be wild pitch that seemed destined to advance Satin to third, Buck decided to take off, too. Montero threw him out at second base as the trail runner to send the game to extra innings tied at 3.
Satin continues to produce as the regular first baseman, which could further stall Ike Davis' return, even as the Mets are all but clear of the bevy of lefty pitching they had faced. Satin went 3-for-6 with two doubles, a walk and game-tying RBI. He now has a career-high seven-game hitting streak and has reached base in 12 straight games.
Absolved: The Mets' ninth-inning comeback spared Shaun Marcum from becoming the first Met to have 10 losses on July 1 since Jason Isringhausen in 1996, according to the Elias Sports Bureau. Marcum remained at 1-9 with the no-decision.
Coming off his first Mets win, an outing in which he pitched eight scoreless innings against the Chicago White Sox, Marcum surrendered a two-run homer to Paul Goldschmidt in the first inning. He ultimately was charged with three runs in six innings.
Ouch: Diamondbacks right fielder Gerardo Parra had a painful end to his evening in the eighth. Parra did a face-plant into the warning track in right-center after Quintanilla's shot bounced off his glove for a triple.
Eric Young Jr. followed with a two-out double against Arizona reliever David Hernandez to plate Quintanilla and pull the Mets within 3-2, although Daniel Murphy flied out to left field to strand Young at third base.
Buck's shot? Buck finished 0-for-4 with three strikeouts and three walks (two intentional). After a torrid start to the season, Buck is hitting .170 (27-for-159) since May 5.
The Mets stranded five runners on base in the opening two innings alone. That futility came courtesy of a strikeout looking by Buck to leave the bases loaded in the first, then consecutive strikeouts by Young and Murphy with two in scoring position an inning later.
With runners on the corners and two outs in the seventh, Buck popped out in foul territory against ex-Met Heath Bell.
Still winless: Wade Miley was poised to become the first D-backs starting pitcher to earn a win since June 5, until the Mets' ninth-inning comeback handed him a no-decision. Arizona starters are now 0-8 with 15 no-decisions in their past 23 games -- one game shy of matching the franchise record, which they established in 1998 with 24 straight starts without recording a win.
Miley tossed 5 2/3 scoreless innings before departing with runners on the corners in the sixth, once Zach Lutz pinch hit for Marcum. When Kirk Gibson inserted right-handed reliever Brad Ziegler, Terry Collins countered by replacing Lutz with Kirk Nieuwenhuis. Nieuwenhuis struck out to strand two runners as Arizona maintained a 3-0 lead.
What's next: Jeremy Hefner (2-6, 3.72) opposes unbeaten left-hander Patrick Corbin (9-0, 2.22) at 7:10 p.m. Tuesday.