NEW YORK -- Josh Satin inherited Ike Davis' locker at the request of the demoted first baseman. Satin may not be giving it up any time soon.
Satin's RBI single in the bottom of the ninth forced extra innings. He then doubled with one out in the 13th, which allowed him to score one of the two runs on Andrew Brown's walk-off single in the Mets' 5-4, 13-inning win against the Arizona Diamondbacks on Monday at Citi Field.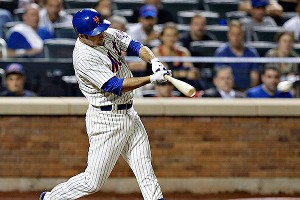 Seth Wenig/Associated Press
Josh Satin went 3-for-6 with two doubles and an RBI on Monday night.Satin went 3-for-6 with two doubles, a walk and the RBI. He has a seven-game hitting streak, has reached base safely in 12 straight games and now has a .395 average through 38 at-bats.
The conventional wisdom had been that Davis might return as soon as Wednesday, when the Mets finally start facing right-handed pitching after seeing a string of southpaws. But Satin's performance undoubtedly will contribute to delaying Davis' return. Davis, after a homer binge, has slowed down anyway at Triple-A Las Vegas. He was 0-for-5 with three strikeouts Monday against Fresno. He is 3-for-22 over his past six Pacific Coast League games.
"Josh deserves some at-bats," Terry Collins said. "He's getting big hits. It doesn't matter if they're left-handed or right-handed [pitchers]. He's getting big hits for us. I'll tell you what: Every team has someone that surprises you and saves you. And right now he's our savior, because this guy has come up and filled a big hole for us."
Satin was not sure he would ever get another chance with the Mets after clearing waivers last year and being removed from the 40-man roster. But he forced his way back by putting up gaudy numbers at Las Vegas.
"It's very gratifying," Satin said. "It's been a long road to this point for me -- longer than probably anybody in this clubhouse knows, dating back to college and whatnot. As far as seizing the opportunity, I didn't really know how much of an opportunity I was going to get. I knew when Lucas [Duda] got hurt, we had some lefties coming up and that I was going to get to play some. But I didn't know I was going to get to play, I think, this is eight or nine days in a row.
"I didn't really put that much pressure on myself. I just tried to relax and play my game. Getting a few hits the first couple of starts kind of allowed me to relax. I was a little nervous in Chicago when we were facing Chris Sale. But I got a hit the first at-bat and that kind of relaxed me and just allowed me to play."