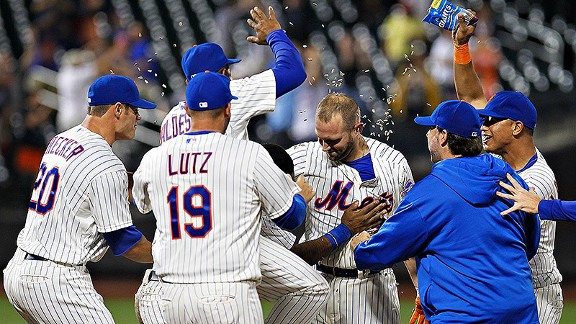 Mike Stobe/Getty Images
Andrew Brown was the center of attention in the Mets' celebration after delivering a walk-off hit.NEW YORK -- Andrew Brown hit .346 with Triple-A Las Vegas this season, eventually forcing a call-up to the majors. His playing time has been limited because of the acquisition of Eric Young Jr., Marlon Byrd's performance and the desire to get Juan Lagares significant time in center field.
But Brown continues to deliver when he gets the chance.
#47 RF
New York Mets
2013 STATS
GM

15

HR3

RBI6

R5

OBP.273

AVG

.226
Brown's bases-loaded, two-out, two-run single in the bottom of the 13th against Josh Collmenter lifted the Mets to a 5-4 walk-off win against the Arizona Diamondbacks on Monday at Citi Field.
It marked the first time since 1963 the Mets won on a walk-off hit that came while trailing in the 13th inning or later, according to ESPN Stats & Information.
The only thing lacking: The Mets' customary pie-to-the-face postgame celebration for the person who produced the walk-off RBI. Justin Turner, the usual deliveryman, is on the disabled list and is in Port St. Lucie, Fla. When asked why there was no substitute stepping up after the five-hour, 13-minute game, Josh Satin said, "Everyone was too tired."
With the Mets trailing 4-3 and one out in the 13th, Satin doubled. Collmenter then intentionally walked John Buck. Matt Harvey, used as a pinch hitter with the pitcher's slot due up and all of the Mets' position players already used, bunted both ahead. Omar Quintanilla then received an intentional walk to load the bases, setting up Brown's at-bat with two outs.
"It's amazing," Brown said. "It's indescribable to go out there and get a win the way we did. We didn't quit playing. That's the best baseball you can have."
As for the game-ending hit, he added, "I felt that I saw the ball real well. I took two aggressive hacks and fouled them straight back. And I figured he was going to try to throw one up. He tried to, but he didn't get it high enough, I guess."