Sandy Alderson and Paul DePodesta presided over the Padres when they drafted first baseman Allan Dykstra with the 23rd overall pick in the 2008 draft out of Wake Forest.
Having relocated to New York, they then acquired Dykstra at the end of spring training two years ago in a change-of-scenery deal with San Diego for reliever Eddie Kunz, the Mets' top pick (42nd overall) in 2007.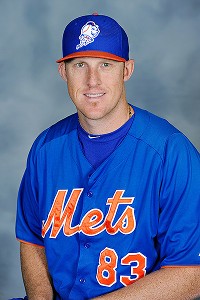 Courtesy of New York Mets
Allan Dykstra
Kunz now is out of baseball. Dykstra, meanwhile, is reestablishing himself with an All-Star season with Double-A Binghamton.
The 26-year-old first baseman is hitting .316 with 12 homers and 52 RBIs and has a .478 on-base percentage through 68 games. He will join B-Mets teammates Cesar Puello, Josh Rodriguez, Logan Verrett and Jeff Walters at the July 10 Eastern League All-Star Game in New Britain, Conn.
Asked if he feels back on the radar, Dykstra said: "I can't personally say that. I hope that's true. I'm having a great year. Personally, my confidence is back. I feel like I did when I got drafted, where I know what I'm doing with my swing. It's not really up to me to decide if I'm back on the radar or not."
Dykstra grew up a Padres fan in San Diego. He even attended the 1998 World Series in which his hometown team was swept by the Yankees.
When the March 29, 2011 trade occurred, though, Dykstra welcomed the change of scenery to jumpstart his career. Dykstra acknowledged he had been outplayed by a trio of other first-base farmhands with the Padres -- Nate Freiman (now a major leaguer with the A's), Cody Decker and Matt Clark.
"When I got traded, I think it was more a fresh start," Dykstra said. "I kind of felt like I was getting a little lost with the Padres. It wasn't even really their fault. There were a bunch of guys they had playing first base -- a couple of them are in the big leagues now -- that were just outplaying me. I kind of got lost in the shuffle, and I wasn't putting up the numbers that they thought I could and that I knew I could put up. Getting traded really opened a new opportunity for me."
The lefty-hitting, righty-throwing Dykstra genuinely is looking forward to the Eastern League All-Star Game, even though the selection comes in his third year in the league. His 2012 season was stalled for a couple of months earlier in the year by a fractured left wrist, which he suffered reaching into the runner for a throw from pitcher Darin Gorski.
"This All-Star Game is awesome. It's the first in my minor league career," Dykstra said. "I'm really excited about attending this one. I just hope after that I will move up. That's out of my control."
Something will have to give with Dykstra soon if the Mets have any plans for him. He is eligible to be a minor league free agent after the season if he is not added to the 40-man roster.
"I would like to continue playing baseball hopefully with the Mets," Dykstra said. "And if not, it's just the way the game works. On a personal level, I would love Las Vegas and being close to my family. I've been on the East Coast playing for the last couple of years."
As for the question he is most often asked: No, he is not related to Lenny Dykstra.
"Oh, man. My whole life I've been asked that a bunch," the B-Met said. "I'm from California. Lenny Dykstra is from California. The first year I got traded over here, with Wally [Backman] being my manager, because Wally and Lenny were good friends and teammates, I think that was the most I've ever been asked. [Teammate] Mark Cohoon was telling me I think he gets it more than I do from people in the stands getting curious [while he is charting other starting pitchers]. I almost wanted to put it on the scoreboard to clarify and save some people some questions."
Organization leaders
Average: Jayce Boyd, St. Lucie, .366; Cesar Puello, Binghamton, .331; Kevin Plawecki, St. Lucie, .320; Wilmer Flores, Vegas, .320; Jhoan Urena, GCL Mets, .320; Jeff Diehl, Kingsport, .319; Allan Dykstra, Binghamton, .316; Josh Satin, Vegas, .305; Jorge Rivero, Brooklyn, .302; Josh Rodriguez, Binghamton, .300.
Homers: Dustin Lawley, St. Lucie, 16; Cesar Puello, Binghamton, 15; Travis Taijeron, Binghamton, 15; Allan Dykstra, Binghamton, 12.
RBI: Wilmer Flores, Vegas, 64; Dustin Lawley, St. Lucie, 60; Jayce Boyd, St. Lucie, 57; Cesar Puello, Binghamton, 55.
Steals: Cesar Puello, Binghamton, 18; Alonzo Harris, Binghamton, 16; Darrell Ceciliani, Binghamton, 16; Stefan Sabol, Savannah, 12; Danny Muno, Binghamton, 10.
ERA: Carlos Gomez, Kingsport, 0.00; Rob Whalen, Kingsport, 0.79; Rainy Lara, St. Lucie, 1.79; Matt Bowman, St. Lucie, 2.44; Robert Gsellman, Brooklyn, 2.45; Gabriel Ynoa, Savannah, 2.89; Michael Fulmer, GCL Mets, 3.00; Noah Syndergaard, Binghamton, 3.01; Luis Cessa, Savannah, 3.14; Rafael Montero, Vegas, 3.14.
Wins: Gabriel Ynoa, Savannah, 9; Matt Bowman, St. Lucie, 8; Logan Verrett, Binghamton, 8; Erik Goeddel, Binghamton, 7; Rafael Montero, Vegas, 7.
Saves: Jeff Walters, Binghamton, 21; Bret Mitchell, St. Lucie, 10; T.J. Chism, St. Lucie, 9; Beck Wheeler, Savannah, 6; Hamilton Bennett, St. Lucie, 6.
Strikeouts: Rafael Montero, Vegas, 96; Matt Bowman, St. Lucie, 87; Rainy Lara, St. Lucie, 84; Logan Verrett, Binghamton, 82; Noah Syndergaaard, Binghamton, 80.
Short hops
• Noah Syndergaard and Rafael Montero are expected to start opposite each other in the July 12 Futures Game at Citi Field. Of course, it helps that Mookie Wilson (USA) and Edgardo Alfonzo (World) will manage the squads. 2011 first-round pick Brandon Nimmo also will be part of the game after being voted in by fans.
• Wilmer Flores will represent Las Vegas and the Pacific Coast League in the Triple-A All-Star Game, which will be held July 17 at Reno. Flores went 5-for-6 Tuesday to up his average to .320 with 10 homers and a league-leading 64 RBIs.
• Puello, the B-Mets outfielder, had a sizzling June. He hit .441 with eight homers and 24 RBIs in 17 games during the month. Puello currently has a 0.996 OPS for the season -- having just dipped under 1.000. Matt Wieters (2008) and Pedro Alvarez ('09) are the only players younger than 23 in the Eastern League since '06 who had an OPS of at least 1.000 for a season while getting 250 plate appearances, according to the Mets.
• Walters, a seventh-round pick in 2010 from the University of Georgia, converted his 21st save in 23 chances Tuesday. He is the first B-Met to reach the 20-save plateau since Kunz had 27 in 2008. The Binghamton saves record is 28, by Jerrod Riggan in 2000.
• Ruben Tejada, technically on a rehab assignment, joined Las Vegas on Tuesday. He had a pinch-hit RBI double in his debut and should start for the first time for the 51s today.
• Terry Collins recently received a call from a friend in scouting offering a complimentary review of Double-A right-hander Cory Mazzoni, a second-round pick in 2011 from NC State. The scout projected Mazzoni (4-2, 4.04 ERA) as a reliever because he relies on two pitches -- a slider and sinker -- and throws 94 mph.
• Mike Baxter left Las Vegas to be with his wife in New York on paternity leave. Baxter is hitting .217 with two homers and three RBIs in 16 games with the 51s since a demotion from the major league club.
• Jacob deGrom, who opened the season in St. Lucie and has risen two levels, continues to shine for Las Vegas. Through three Pacific Coast League starts, the 25-year-old right-hander is 1-0 with a 0.96 ERA.
• First-round pick Dominic Smith is hitting .200 (5-for-25) with two RBIs and two walks through seven Gulf Coast League games.
• Kyle Johnson, the 23-year-old outfielder acquired from the Angels for Collin Cowgill, fits the profile the Mets seek. He has a career .400 on-base percentage and nearly has as many walks (49) and strikeouts (62) through 431 professional plate appearances. Johnson also has 37 steals in 42 attempts in 105 games since leaving Washington State University as a 25th-round pick.
• The Mets signed 25th-round pick Brandon Brosher, a high school first baseman from Florida, for a reported $167,500. They have signed 25 of 41 draft picks. DePodesta said the Mets are "probably done" signing draft picks, but have another 10 days in case something changes.