FIRST PITCH: Jonathon Niese's Fourth of July plans are expected to include an MRI of his left shoulder.
The medical exam at the Hospital for Special Surgery was planned two weeks ago when Niese originally was diagnosed with a partially torn rotator cuff.
The expectation -- or, at least hope -- is Niese's injury shows signs of healing and he can be cleared to begin tossing a baseball, with an eye toward returning to the majors in early August. Otherwise, he may face season-ending surgery.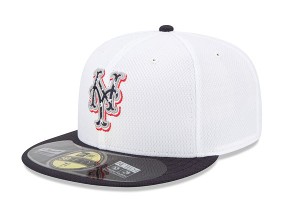 Courtesy of Major League Baseball
The Mets wear "Stars & Stripes" hats at Citi Field today.
Today at 11:59 p.m. is also the deadline to complete a ballot online for the July 16 All-Star Game at Citi Field. David Wright held a seemingly commanding 842,186-vote lead over San Francisco Giants third baseman Pablo Sandoval for the NL starting nod in a tally released Tuesday, but there should never be complacency when it comes to casting a ballot. (Vote here.)
The All-Star squads will be announced Saturday.
Meanwhile, with game No. 81 having been completed last night, the Mets season is now halfway in the books. Their 35-46 is their worst at the midway point since Art Howe's first season as manager in 2003, when they had the identical record.
The Mets nonetheless aim for the series win when Dillon Gee (6-7, 4.60 ERA) opposes right-hander Ian Kennedy (3-4, 5.36) at 1:10 p.m. today.
The Mets will wear special "Stars & Stripes" caps. All of MLB's proceeds from the sale of the caps go to Welcome Back Veterans, which was co-founded by Fred Wilpon in 2008.
Thursday's news reports:
• After a nearly two-hour rain delay, Matt Harvey was charged with a career-high-matching five runs as the Mets lost to the Diamondbacks, 5-3, before a season-high, sellout crowd of 41,257 on Fireworks Night at Citi Field. The big blow: Cody Ross belted a three-run homer in the sixth on a hanging two-out slider, which got Arizona on the scoreboard. The final run charged to Harvey scored after he departed with a pair of runners in scoring position in the seventh and none out. Harvey's ERA rose to 2.27, which ranks fifth in the NL. Leader Clayton Kershaw is at 1.93.
The Mets produced three solo homers. Wright and Josh Satin had long balls in the fourth against Randall Delgado to stake the Mets to a 2-0 lead. Daniel Murphy blasted a homer to the base of the Shea Bridge in right-center in the eighth against David Hernandez to complete the game's scoring. It was Satin's first career major league homer.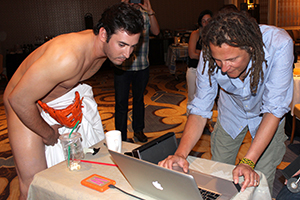 ESPN The Magazine
Matt Harvey declared his independence from clothing in ESPN The Magazine.
Harvey's next start comes Monday in San Francisco, with NL skipper Bruce Bochy watching from the home dugout.
Read game recaps in the Post, Daily News, Newsday, Times, Star-Ledger, Record, Journal and MLB.com.
• ESPN The Magazine has released a handful of behind-the-scenes photos of Harvey's shoot for the "Body Issue," which is due to hit newsstands July 12.
• Anthony Rieber in Newsday could not care less whether Harvey starts the All-Star Game. Writes Rieber:
Confession: I used to love the All-Star Game. I used to follow the voting closely in the papers in the age before Twitter. I'd get really ticked if the players from my favorite team didn't make the squad or the starting lineup. I never missed an inning.
Then I turned 11.
Please remember this if you're stressing about whether Matt Harvey hurt his chances of starting the July 16 All-Star Game at Citi Field by allowing five runs in six-plus innings in a 5-3 loss to the Diamondbacks. If you're a Mets fan, you should be more concerned with when Harvey is going to start Game 1 of a playoff series. In his lifetime, hopefully?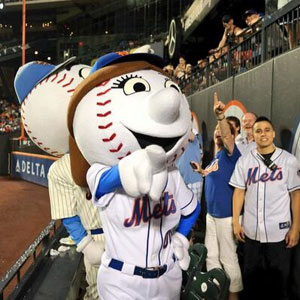 Courtesy of New York Mets
Mrs. Met returned to Citi Field on Wednesday night.
• Mrs. Met was reintroduced to Citi Field on Tuesday night, now sporting a ponytail. She last regularly appeared at Mets games in 2005, according to a team marketing official. She also appeared alongside Mr. Met in a 2008 SportsCenter commercial, minus the ponytail, and with kids in the backseat. The plan is to have Mrs. Met make regular game appearances, although not on an everyday basis.
• Ike Davis homered for a second straight day, this time off former Mets farmhand Yusmeiro Petit. Davis finished 3-for-4 as Las Vegas beat Fresno, 2-0. He is hitting .293 with seven homers and 13 RBIs through 75 at-bats. Ruben Tejada, getting his first start with the 51s, went 0-for-4. Mexican League signee Giancarlo Alvarado tossed six scoreless innings for the second straight outing.
In Double-A, Cory Mazzoni allowed six runs (five earned) in six innings as Binghamton lost to Altoona, 6-3. Domingo Tapia, Hamilton Bennett and Tim Byrdak combined on a two-hit shutout as St. Lucie beat Jupiter, 1-0. Matt Oberste's walk-off sac fly scored Patrick Biondi as Brooklyn snapped a four-game losing streak with a 2-1 win against Staten Island. Read the full minor league recap here.
• Terry Collins indicated that Shaun Marcum is on track to start Saturday against the Milwaukee Brewers, his former organization. Still, Carlos Torres is being kept on standby just in case and likely will not be inserted in a game in relief beforehand.
Collins acknowledged Marcum underwent an MRI on his tight upper back Tuesday after experiencing tingling in his fingers during Monday's start. Marcum had a similar issue that landed him on the disabled list to open the season.
The Mets weighed putting Marcum on the DL before Tuesday's game, but instead demoted Zach Lutz to open the roster spot for reliever Gonzalez Germen. Read more in the Post, Daily News, Times, Star-Ledger, Record and MLB.com.
• Read more on Satin's performance in the Record.
• John Franco is facing a civil lawsuit alleging he intimidated a sales agent, the Staten Island Advance reports.
• Ten of the 25 active players on the Mets also saw action at Las Vegas this season, notes Jared Diamond in the Journal.
• From the bloggers … Faith and Fear notices the Mets have a tendency to make their fans wait and wait some more. … John Delcos at Mets Report notes one-third of the Mets' roster has turned over since Opening Day and analyzes the impact for 2014.
BIRTHDAYS: Former shortstop Jose Oquendo, now the third base coach for the St. Louis Cardinals, turns 50.
TWEET OF THE DAY:
@ESPN_Colin I've see the same number of Egyptian revolutions as sports titles. I'm 36. #mets #jets #rangers #knicks

— Denis Bergin (@DennyBergin) July 3, 2013
YOU'RE UP: Do you approve of the reintroduction of Mrs. Met? Or should Mr. Met be able to be a bachelor at the ballpark?