NEW YORK -- Terry Collins has expressed concern the Mets staff tinkered too much with Zack Wheeler between his second and third major league starts.
Or, at the very least, Collins regretted that John Buck got away from calling enough of the blazing fastball that caused Wheeler to rise through the minors and instead leaned too heavily of Wheeler's sinker.
When Wheeler allowed five runs in 4 2/3 innings Sunday against the Washington Nationals, he threw his four-seam fastball only 47 percent of the time, as opposed to 69 percent of the time five days earlier in Chicago and 53 percent of the time in his major league debut at Atlanta.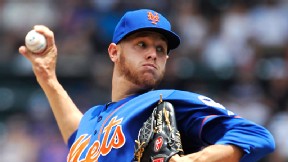 Kathy Kmonicek/Associated Press
Zack Wheeler should go back to using his fastball in Milwaukee on Friday night.
So look for Wheeler (1-1, 5.06 ERA) to go back to a heavy dose of his four-seam fastball in the upper 90s when he faces the Milwaukee Brewers on Friday night, in his fourth major league start.
"We've addressed a couple of issues," Collins said. "Once again, I don't like handing out scouting reports. But it's pretty basic: One of the things I really, really, really believe in -- I don't care if it's a guy like Zack Wheeler who is strictly a power guy, or a guy like Dillon Gee -- you have to pitch to your strengths. You can't always pitch to the hitters' weaknesses. I've had some of the greatest pitchers that ever pitched say the same thing. ... That was my whole message to Zack: Don't get away from your strengths. Just because so-and-so can't hit a slider doesn't mean you can't get him out with your fastball."
Some of the modifications the Mets made in Wheeler's delivery before his last start had to do with concerns he was telegraphing what pitch was coming. One change: Wheeler moved his glove at his set position at the start of his delivery from by his chin to by his belt.
Wheeler reiterated Thursday that he believed those pitch-tip-avoiding tweaks were minor and did not affect his subpar performance against the Nats. He said he plans to stick with most of those tweaks for this upcoming start.
"I don't think it was a big deal," he told ESPNNewYork.com.
Said Collins: "This guy is not ready to be the perfect control artist -- the Curt Schilling that can throw his 97 mph fastball on the outside corner. He's not there yet. He will be. And that's why the sky is the limit for him. It's work in progress. ... The tipping of the pitches? Yeah, that's a little bit of an issue. But, as we saw, he's still got good enough stuff to get outs. So let's not get drastic and try to be somebody different."
Collins said Wheeler does have an edge to him, even if it is not as written about in the media as the one Matt Harvey possesses.
The manager reminded reporters Thursday that Wheeler drilled Mets farmhand Aderlin Rodriguez in an intrasquad game late in spring training in minor league camp after Rodriguez had admired a home run. (Wheeler, for the record, has denied intent.)
"Just because he's not the same personality of Matt Harvey, this kid is tough. This guy is tough," Collins said. "Spring training he hit his own teammate. So he's got that makeup."