MILWAUKEE -- Matt Harvey has been selected for the NL All-Star team in his first full season in the majors. The only lingering issue: Will he be confirmed as the game's starter?
Harvey and David Wright will represent the Mets in the July 16 game in Queens.
"It hasn't quite hit home yet," Harvey said Saturday night. "It's definitely a huge honor. I couldn't be more excited it's in New York. I'm glad I'm playing over there with David."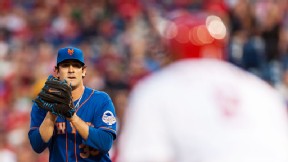 Howard Smith/USA TODAY Sports
Matt Harvey is an All-Star in his first full major league season.
As for the importance of starting the game, Harvey added: "That's one thing I can't decide. There are two more [first-half] starts left, and I have to go out there obviously and put up zeroes and do everything I can here to help the Mets."
Harvey's next start comes Monday in San Francisco, where NL manager Bruce Bochy will just happen to be in the home dugout. Still, Harvey insisted, there is no added incentive to perform and secure the starting nod.
The other starting pitchers selected to the NL squad: Madison Bumgarner, Patrick Corbin, Jose Fernandez, Clayton Kershaw, Cliff Lee, Jeff Locke, Adam Wainwright, Travis Wood and Jordan Zimmermann.
"No," Harvey said about extra motivation to perform with Bochy watching in the ballpark Monday. "Like I said all year: I take one start at a time. No matter who we're playing I stick with my approach and go out there and try to do the same thing. It's a fun ballpark to pitch in, so obviously it's going to be exciting. It's still pitching."
Harvey received the most votes among starting pitchers on the players' ballots -- a sign of the respect he has earned among his peers. His 287 votes led the runner-up Kershaw (231) as well as Corbin (222), Wainwright (215) and Zimmermann (207).
"It's a huge honor," Harvey said. "I obviously thank everybody for the support. I'm excited. It's obviously all new to me, being my first year -- first full season. Having the honor to be voted in, I'm kind of speechless with the whole thing."
The Mets are likely to move Harvey's final first-half start to Saturday in Pittsburgh, then give him about 35 pitches with which to work in the All-Star Game three days later.
How much would Harvey have left in the tank under that scenario?
"I have no idea," Harvey said. "That's going to be new as well. Whatever they decide to do then I'll be all for it. I don't think I'm going to have any problem getting adrenaline going for that start, or whatever it is."
As for the game being at Citi Field, Harvey added: "It's my first time, obviously. To have it at home is definitely a dream come true."