CHICAGO
FIRST PITCH: The Mets witnessed firsthand the wreckage from the plane crash that killed two Chinese teenagers as the team charter landed Sunday night at San Francisco International Airport.
Tweeted Dillon Gee: "Still thinking about the people affected by the ASIANA crash in SF! We just landed right next to it!!"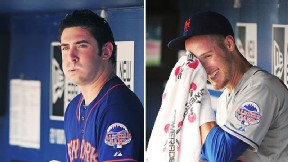 Getty Images
Matt Harvey and Zack Wheeler both have extra motivation against the Giants.
The Mets open a three-game series against the San Francisco Giants tonight, with Matt Harvey slated to oppose Tim Lincecum in the 10:15 p.m. ET opener.
It is a noteworthy series for Harvey and Zack Wheeler, who pitches Wednesday.
Harvey gets to demonstrate to NL manager Bruce Bochy that he merits starting the All-Star Game. Wheeler faces the organization that traded him two years ago to the Mets for Carlos Beltran.
"Any time you're traded, you want to show the people that traded you they made a mistake," Terry Collins said. "I think that's human nature. Obviously, he'll be pitching against guys that he knows, which also is a 'mano a mano' challenge. Anything that motivates somebody, I'm all for it.
"Matt's got some motivation. He's had motivation all year. The best thing I like about his approach is it's not just pitching in front of 'Boch.' It's to be the best in the game. You keep that attitude all year long, each and every start you're motivated."
Read the Mets-Giants series preview here.
Monday's news reports:
• Josh Satin went 3-for-4 with a pair of doubles after a two-day absence from the lineup and Jeremy Hefner took a scoreless effort into the seventh inning as the Mets beat the Brewers, 2-1, in Sunday's rubber game. Collins said Satin is not in a platoon with Ike Davis, although Satin should play somewhere when the Mets face left-hander Barry Zito on Tuesday.
Read game recaps in the Post, Daily News, Star-Ledger, Record, Journal, Times, Newsday and MLB.com.
• Shaun Marcum was due to fly to St. Louis to be checked out for numbness and tingling in his cold right hand. It was during a visit to the specialist in that city last July that Gee ultimately was diagnosed with a damaged artery in his pitching shoulder as well as a blood clot and underwent surgery. The Mets appeared leaning toward skipping Marcum's final first-half start anyway and essentially using a four-man rotation for the rest of the first half. Carlos Torres would be the primary candidate to replace Marcum if he had an absence into the second half.
Read more in the Post, Daily News and Star-Ledger.
• Marcum is not the only starting pitcher due for a medical exam. Jonathon Niese is scheduled for a follow-up MRI in New York today to determine whether a partial tear of the rotator cuff in his left shoulder has started to heal. He could be cleared to begin tossing a baseball. Or, although the Mets portray this as not the likelihood, season-ending surgery could be recommended.
• The Mets may be neither buyers nor sellers at the trade deadline, a team insider told ESPNNewYork.com. Writes columnist Bill Madden in the Daily News:
If, as it now looks, the Mets take a pass at the trading deadline, they shouldn't be faulted. They're not going anywhere anyway and they need to be upgrading for the long term. Interestingly, in Bobby Parnell, they do have about the hottest commodity a team could have at this year's trading deadline -- a young, inexpensive, hard-throwing closer. …
Still, as one scout who's followed the Mets a lot this season told me: "I'm sure those clubs could really tempt the Mets on Parnell -- the Red Sox with the outfielder, Jackie Bradley Jr., and one of their top pitching prospects like [Rubby] De La Rosa, but that remains to be seen. And if they want to be able to compete next year, as they say they do, there's no way they can trade him."
• Ruben Tejada has some things to prove before returning to the majors, Collins said.
• ESPN The Magazine released more photos of Harvey in the "Body Issue," which hits newsstands Friday.
• Wally Backman and Zach Lutz were ejected in Las Vegas' 4-3 loss at Tucson. Michael Fulmer made his first Florida State League start since undergoing surgery to repair a torn meniscus in spring training. Miller Diaz tossed five scoreless innings as Brooklyn blanked Lowell, 3-0. Read the full minor league recap here.
• Ex-Met Scott Hairston has been traded from the Chicago Cubs to the Washington Nationals.
• From the bloggers … Mark Berman at Blogging Mets says the Mets have a Satin problem. … Faith and Fear in Flushing revels in the progress of a pitcher who is proving himself not Hef bad.
BIRTHDAYS: Mid-'60s pitcher Gary Kroll was born on this date in 1941.
TWEET OF THE DAY:
Don't forget to follow @ScottRice56... He's tall, left handed, and has an above average sense of humor.. #MetsTwitter

— Jeremy Hefner (@jeremy_hefner53) July 7, 2013
YOU'RE UP: Did you ever expect Jeremy Hefner to perform at this level?