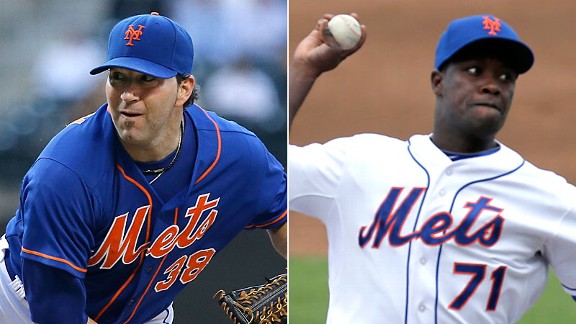 Associated Press
Shaun Marcum is likely to replaced on the active roster by Gonzalez Germen, but the move will not take place until Tuesday.SAN FRANCISCO -- Gonzalez Germen is en route to San Francisco, the Mets announced, signaling Shaun Marcum appears headed to the disabled list.
Because Germen has not been in the minors 10 days, he can only return if a major league player lands on the DL.
Germen is not due to arrive until late in Monday's game at the earliest, so he will not be active for the series opener and Marcum will not be placed on the DL tonight.
Marcum was examined by a specialist in St. Louis on Monday because of tingling and numbness in his cold right hand. Assistant GM John Ricco said full details would not be disclosed until Tuesday.
Dillon Gee visited the same specialist, doctor Robert Thompson, last July at Barnes-Jewish Hospital.
"Dr. Thompson is one of the top guys in the country," Ricco said. "We were in Milwaukee, so we were close. It's close to Shaun's home. It's something he was comfortable with."
Regardless, Terry Collins said before Monday's opener against the Giants that he will use a four-man rotation the remainder of the first half, taking advantage of Thursday's off-day between series in San Francisco and Pittsburgh.
Matt Harvey will return on standard rest Saturday, with Gee closing the first half on Sunday.