SAN FRANCISCO -- Marlon Byrd now has seven career grand slams. His first since 2009 gave the New York Mets their margin of victory.
Byrd's eighth-inning slam gave the Mets a five-run lead en route to a 10-6 win against the San Francisco Giants on Tuesday night at AT&T Park.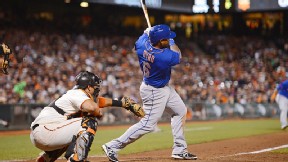 Kyle Terada/USA TODAY Sports
Marlon Byrd belted an eighth-inning grand slam."I know they really weren't going to pitch to David [Wright], so whoever is hitting behind him, at some point you've got to come through to try to get him more pitches later on in the series or later on in the season," Byrd said.
Byrd now has 14 homers this season, tied with John Buck for the team lead.
"Playing down there, you want to get back to the big leagues," Byrd said, referring to his time in the Mexican League last winter while trying to revive his career. "I'm just enjoying myself."
Gridiron mentality: If you couldn't tell from the jolt Anthony Recker gave baserunner Marco Scutaro on a first-inning play at the plate, yes, Recker played high school football.
He was a linebacker, tight end and punter -- "a very good punter," he said.
Recker received a relay throw from shortstop Omar Quintanilla, lowered his right shoulder and gave Scutaro the jolt for the final out of the bottom of the first.
"I've always taken pride in just being able to block the plate," Recker said. "But, honestly, when the ball was coming in from Q, I knew we had a really good shot at him. And Q made a great throw. I didn't want to get the short hop, so I came up like one or two steps to catch it on the fly. It just kind of brought me into him as I just kept going. I probably gave him nowhere else to go, really. It was a good, hard-nosed play. Hopefully he's OK."
Recker also delivered a tiebreaking two-run homer in the sixth that had staked the Mets to a 5-3 lead.
"It's always been kind of a part of my game," Recker said about the long ball. "I've always kind of hit with a decent amount of power. So far, lately, I've been swinging the bat pretty well. I can get kind of streaky with home runs at times. So it seems like I'm in a good streak right now."
Walks in the park: After the Mets played 16 innings in the series opener, Dillon Gee knew he needed to pitch deep in the game. He ultimately surrendered five runs while lasting 6 2/3 innings in a no-decision.
"After playing as long as we did last night, obviously I wanted to go even deeper than that," Gee said.
As for the uncharacteristic five walks he issued, Gee added: "I don't know. I just kind of lost the command as the game went on. I thought I was trying to be too fine. Along with the walks, which are obviously my fault, I felt like I was very unlucky too. I mean, five infield hits. It seemed like maybe after that I started to be different … and started falling behind everybody. I just kind of lost it."